Nicanor
From AlexBrownRacing
Intro
Nicanor is a 3yo (March 15, 2006) full brother to Barbaro. Nicanor also has a 2yo full brother, Lentenor. Nicanor is owned by Roy Jackson and Gretchen Jackson. His trainer is Leigh Delacour. He has started three times in Florida, all on the dirt ginishing second twice. He then moved to the Turf at Delaware Park and has won two in a row.
photo courtesty of Jerry(SlewReigns )
Before Fair Hill
Nicanor was born at Mill Ridge Farm in Kentucky.
Prior to Nicanor's arrival at Fair Hill, he was in Florida with John and Jill Stevens (as was Barbaro) to get his early education.
Media Coverage
Bloodhorse Nicanor Blog Ongoing Updates
---
2009
Nicanor Out of Virginia Derby Due to Injury

Barbaro's fans lining up to cheer on brother Nicanor The Virginian-Pilot 07/16/09
Barbaro's full brother steps up in Va. Derby 07/16/09 DRF
Nicanor giving Barbaro fans a reason to shout Robin Bush from Examiner.com In Cleveland
Nicanor in Tough Saturday; Drew Post Position 4 Bloodhorse 7/13/09
A Full Report on Nicanor's First Race NYTs The Rail 5/23/09
Barbaro's Brother Nicanor Takes Step Into His Own New York Times 5/22/09
Nicanor delivers thrills and memories at DelPark Delaware Online 5/16/09
Horse racing fans follow Barbaro's brothers USA Today 5/15/09
Late Derby winner Barbaro's brother shows promise in first victory The Canadian Press 5/14/09
Fans of Barbaro Can Smile The Rail, by Alex Brown 5/14/09
Barbaro's Brother Nicanor Breaks Maiden by 15 Bloodhorse 5/13/09
Barbaro's Brother Wins The Rail 5/13/09
Nicanor powers to 15 1/4-length romp in turf debut TB Times 5/13/09
Nicanor Breaks Maiden in Stunning Fashion Bloodhorse 5/13/09
Nicanor Half-Length Short in Maiden Try Bloodhorse 3/28/09
Nicanor improves with runner-up finish NTRA 3/7/09
Nicanor finishes second in second race Fort Mills Times 3/7/09
Nicanor entered to run Saturday TB Times 3/4/09
Nicanor...Doing Fine Bloodhorse, February 3, 2009
Horse Racing: Nicanor, Dust or Diamond in the Rough? Beacher Report, February 1, 2009
Nicanor Injured Slightly in Debut Bloodhorse, January 31, 2009
NICANOR FAR BACK IN DEBUT; 'SINNER' UPSETS HOLY BULL Paulick Report, January 31, 2009
Nicanor Expected To Boost Md. Horse Racing WJZ Baltimore, January 30, 2009
Barbaro's brother making debut at Gulfstream Park Philadelphia Daily News, January 30, 2009
Hope Springs From Barbaro's Brother CBS Evening News, January 29, 2009
Barbaro's Legacy Lives In His Brother CBS Evening News Preview, January 29, 2009
Barbaro's brother to debut with Prado in the saddle Baltimore Sun, January 29
Barbaro's brother on display at Gulfstream Philly.com, January 29, 2009
Prado Ready for Nicanor Debut NTRA, January 28, 2009
Barbaro's brother will make debut Saturday AP, January 28, 2009
Barbaro brother ready to run Daily Racing Form, January 27, 2009
Rolling out the red carpet for Nicanor Thoroughbred Times, January 27, 2009
Barbaro's brother close to debut, Prado will ride AP, January 26, 2009
Prado to Ride Nicanor in His Upcoming Debut Bloodhorse, January 25, 2009
Is Barbaro's brother, Nicanor, also his heir? Wilmington New Journal, January 24, 2009
Nicanor breezes in preparation for debut January 17, 2009
Nicanor Report Gulfstream Park, January 16 2009
Full brother of Barbaro is closing in on his racing debut LA Daily News, January 11, 2009
Nicanor report: Grass debut an option Paul Moran, January 10, 2009
The Nicanor report: Quite good at the gate Paul Moran, January 2, 2009
Nicanor progressing toward highly anticipated debut Thoroughbred Times, January 2, 2009
---
Photos
Nicanor's Maiden WIN May 13, 2009:
Going into the first turn
Where are the rest of the horses?? ...15 1/4 lengths behind!!!
(photo courtesy: Sexylips28)
---
Photos and Video from FOB Celebration 7/12/08
Nicanor at Keeneland, April 2009:
Photos of Nicanor at Keeneland
May 1, 2008 Jim Course:
Pictures of Nicanor and Lentenor at Mill Ridge.
During his first Work at Fair Hill, under Peter Brette, mid-May: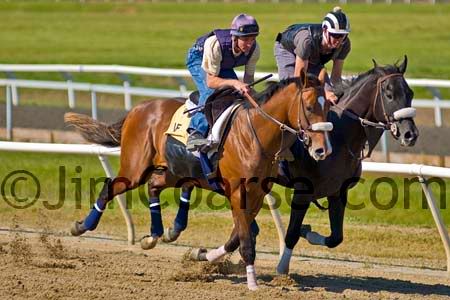 Nicanor as a yearling:
Nicanor as a baby with his mum La Ville Rouge:
Updates from ABR
Videos
Exclusive! Video of Nicanor and Lentenor at Fair Hill July 2009
Nicanor, Ghost of Barbaro - Hoist the Colours
Discussions
Lentenor & Nicanor racing this week 08.21.10

Nicanor racing in the Sussex Stakes ! 07.07.10
Nicanor nominated for the Sussex Stakes 06.28.10
Nicanor Entered Dixie Stakes 5/15/10 05.12.10
Welcome Back!, Nicanor Race Day thread.. 04.08.10
Nicanor entered 4-08-2010 04.05.10
Nicanor is the favorite for the VA derby 07/13/09
Nicanor Draws #4 with Jose Lezcano 07/13/09
Its Official, Nicanor Entered June 17.. 06/14/09
Nicanor works, Next Race June 17... 06/11/09
Derby winner Barbaro's brother earns first win Twitter 5/13/09
he won!!!!!!yea nicanor!!!! ABR 5/13/09
Nicanor wins by at least 10!! ABR 5/13/09
Entry for Nicanor 5/13 - Delaware Park ABR 5/10/09
Nic a very very close 2nd ABR 3/28/09
Nicanor ran 2nd again by 1/2 Length ABR 3/28/09
another good second ABR 3/28/09
GOOD LUCK TODAY NICANOR! ABR 3/28/09
Nicanor scheduled to race Saturday - 3/28 ABR 3/26/09
Nic runs Saturday ABR 3/25/09
Nicanor workout 3/22 ABR 3/22/09
Nicanor 'Beyer' number: 97 !!! ABR 3/10/09
Reporting from Gulfstream on Nicanor 3/7/09
Nicanor ran a very good 2nd 3/7/09
Nic to race March 7th 8th race Gulfstream
Nicanor Workout 7/11 ABR 7/11/08
Nicanor works!!!! ABR 6/7/08
Nicanor's workouts
| | | | | | | |
| --- | --- | --- | --- | --- | --- | --- |
| Date | Track | Distance | Time | Track Condition | Surface | Rank |
| 06.11.11 | Fair Hills | 5F | 1.02.60 Breezing | Fast | AWT | 15/20 |
| 06.04.11 | Fair Hills | 4F | 50.80 Breezing | Fast | AWT | 21/23 |
| 05.07.11 | Fair Hills | 4F | 47.20 Breezing | Fast | AWT | 1/33 |
| 04.30.11 | Fair Hills | 4F | 49.40 Breezing | Fast | AWT | 8/23 |
| 04.17.11 | Palm Meadoes | 4F | 49.36 Breezing | Fast | Dirt | 11/22 |
| 03.27.11 | Palm Meadows | 4F | 49.00 Breezing | Fast | Dirt | 14/58 |
| 03.21.11 | Palm Meadows | 5F | 1:02.00 Breezing | Fast | Dirt | 9/22 |
| 03.14.11 | Palm Meadows | 4F | 48:50 Breezing | Fast | Dirt | 4/28 |
| 02.08.11 | Palm Meadows | 6F | 1:14.20 Breezing | Fast | Dirt | 1/1 |
| 01.31.11 | Palm Meadows | 5F | 1:01.00 Breezing | Fast | Dirt | 2/11 |
| 01.24.11 | Palm Meadows | 4F | 48.00 Breezing | Fast | Dirt | 3/20 |
| 01.17.11 | Palm Meadows | 3F | 38.00 Breezing | Fast | Dirt | 1/1 |
| 11.20.10 | Fair Hills | 5F | 1:01.40 Breezing | Fast | Dirt | 1/16 |
| 10.10.10 | Fair Hills | 4f | 48.60 Breezing | Fast | Dirt | 2/9 |
| 09.15.10 | Fair Hills | 3F | 36.20 Breezing | Fast | Dir | 1/4 |
| 09.08.10 | Fair Hills | 4F | 49.60 Breezing | Fast | Dirt | 4/8 |
| 08.18.10 | Fair Hills | 5F | 1:00.40 Breezing | Fast | AWT | 3/9 |
| 08.09.10 | Fair Hills | 5F | 1:01.00 Breezing | Fast | AWT | 1/3 |
| 08.01.10 | Fai Hills | 4F | 48.20 Breezing | Fast | AWT | 2/4 |
| 07.07.10 | Fair Hills | 4F | 48.60 Breezing | Fast | Dirt | 1/4 |
| 07.01.10 | Fair Hills | 4F | 50.00 Breezing | Fast | Dirt | 3/8 |
| 05/30/10 | Fair Hills | 4F | 49.40 Breezing | Fast | Dirt | 3/6 |
| 05.09.10 | Fair Hills | 4F | 48.80 Breezing | Fast | Dirt | 1/2 |
| 05.03.10 | Fair Hills | 4F | 50.00 Breezing | Fast | AWT | 2/4 |
| 04.27.10 | Fair Hills | 4F | 50.00 Breezing | Fast | AWT | 5/14 |
| 04.02.10 | Keeneland | 5F | 1.00.60 Breezing | Fast | AWT | 2/29 |
| 03.25.10 | Palm Meadows | 5F | 1:00.60 Handily | Fast | Dirt | 1/20 |
| 03.18.10 | Palm Meadows | 1m | 1:43.60 Breezing | Fast | Dirt | 1/1 |
| 03.11.10 | Palm Meadows | 4F | 49:95 Breezing | Fast | Dirt | 6/9 |
| 03.04.10 | Palm Meadows | 5F | 1:00 Handily | Fast | Dirt | 1/30 |
| 02.26.10 | Palm Meadows | 4F | 49:20 Breezing | Fast | Dirt | 10/54 |
| 02.07.10 | Palm Meadows | 4F | 48.00 Handily | Fast | Dirt | 2/55 |
| 01.25.10 | Palm Meadows | 3F | 38.00 Breezing | Fast | Dirt | 2/5 |
| 07.13.09 | Fair Hill | 4F | 49.00 Breezing | Fast | Dirt | 1/7 |
| 07.07.09 | Fair Hill | 5F | 1:01.00 Breezing | Fast | Dirt | 1/5 |
| 06.11.09 | Fair Hill | 5F | 1:02:00 Breezing | Fast | All Weather | 1/3 |
| 06.03.09 | Fair Hill | 3F | 37:00 Breezing | Fast | Dirt | 2/9 |
| 5.27.09 | Fair Hill | 4F | 50:00 Breezing | Fast | Dirt | 3/9 |
| 05.06.09 | Fair Hill | 5F | 1 02:00 Breezing | Fast | All Weather | 3/8 |
| 04.28.09 | Fair Hill | 5F | 1:01:40 Breezing | Fast | All Weather | 1/3 |
| 04.19.09 | Keeneland | 4F | 50:40 Breezing | Fast | All Weather | 45/63 |
| 04.11.09 | Keeneland | 4F | 48:40 Breezing | Fast | Dirt | 21/81 |
| 03.22.09 | Palm Meadows | 4F | 50:40 Breezing | Fast | Dirt | 19/21 |
| 02.16.09 | Palm Meadows | 4F | 51:60 Breezing | Fast | Dirt | 12/14 |
| 01.17.09 | Palm Meadows | 4F | 50:40 Breezing | Fast | Dirt | 14/29 |
| 01.11.09 | Palm Meadows | 5F | 1:01:35 Handily | Fast | Dirt | 5/22 |
| 12.28.08 | Palm Meadows | 3F | 38.50 Handily | Fast | Dirt | 2/15 |
| 12.19.08 | Palm Meadows | 5F | 1.01:80 Handily | Fast | Dirt | 2/3 |
| 11.16.08 | Fair Hill | 3F | 38:00 Breezing | Fast | All Weather | 1/3 |
| 07.11.08 | Fair Hill | 4F | 50.00 Breezing | Fast | All Weather | 8/16 |
| 06.28.08 | Fair Hill | 3F | 38.40 Breezing | Fast | Dirt | B |
| 06.21.08 | Fair Hill | 4F | 51.40 Breezing | Fast | Dirt | B G |
| 06.13.08 | Fair Hill | 3F | 39:10 Breezing | Fast | All Weather | 5/11 |
| 06.07.08 | Fair Hill | 3F | 39:00 Breezing | Fast | Dirt | 15/22 |
Nicanor's Race Record
16 Starts, 4 Wins, 2 Places, 2 Shows Career Earnings: $ 147,372
Date
Race
Finish
Chart
05.12.11
Belmont Island Sun Stakes
4th
04.03.11
GULFSTREAM Emirates Airlines Appleton S. - Grade: 3
7th
03.19.11
Tampa Bay S. - Grade: 3
Scratched
02.27.11
GULFSTREAM Canadian Turf S. - Grade: 3
5th
11.26.10
Aqueduct Three Coins Up Stakes
3rd
10.31.10
Woodbine, Canada Labeeb Stakes
4th
09.24.10
Belmont ALLOWANCE OPTIONAL CLAIMING 1 1/16 mile Inner Turf
1st Neck
08.25.10
Delware Park-Eight Thirty Stakes 1mile 70 yds on Turf
6th
07.10.10
Sussex Stakes 1 1/16 (Turf)
3rd
06.16.10
1 1/16 Delaware (Turf) Allowance/Optional Claiming 3yrs old and up
1st by 2 1/2
05.15.10
1 1/8 Miles (Turf) 3 Year Olds And Up Stakes (Dixie S)
6th
04.08.10
1 1/16 (Turf) 4 Year Olds And Up Allowance
5th
07.18.09
1 1/4 Miles(Turf) Virginia Derby (Grade II)
SCR
06.17.2009
1 1/8m Turf- Allowance-Delaware
1st
05.13.2009
1 1/16m Turf- Maiden Special Weight- Delaware Park
1st
03.28.2009
1 mileDirt- Maiden Special Weight Gulfstream Park
2nd
03.07.2009
7F Dirt- Maiden Special Weight Gulfstream Park
2nd
01.31.2009
1 mile Dirt-Maiden Special Weight Gulfstream Park
10th
---
Race Videos:
08.25.10 Delaware Eight Thrity S
04.08.10 1 1/16 (Turf) 4 Year Olds And Up Allowance
1 1/8m Turf- Allowance-Delaware June 17,2009
Nicanor Breaking his Maiden May 13, 2009
Nicanor's 3rd Race, March 28, 2009
Nicanor's 2nd Race, March 7, 2009