Super Hero
From AlexBrownRacing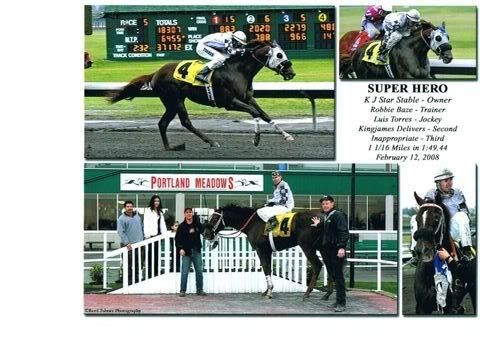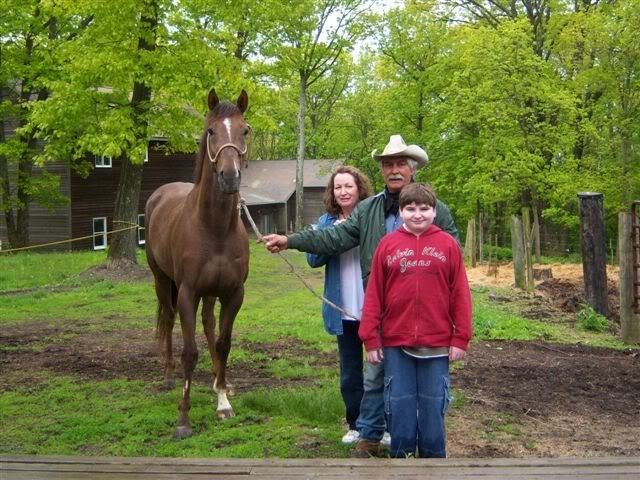 Colette and her 11 year old son, Morgan, have been following a race horse, Super Hero, for the last year. Morgan fell in love with him and has had him in his Virtual Stable, keeping tabs on him. Colette and Morgan were able to see Super Hero race last summer at Saratoga and as Morgan stood at the rail and cheered his HERO around the track, screaming and yellling his little head off, Super Hero won his race!
During the past year as they have followed Super Hero he has continued to fall into lower and lower claiming races and Colette has been very worried that something bad might happen with Morgan's HERO. We all know what can happen to race horses when they are no longer able to race....they can disappear out the back door and are loaded onto slaughter bound trucks. Morgan even wrote a special paper at school when the teacher told them to write about their hero....Morgan chose Super Hero.
Colette was able to find out who Hero's trainer is and she called him and told him that her son had been following him and that he is Hero's biggest fan. She explained that she was very concerned that he was falling lower and lower in the ranks and was afraid something might happen to him and that she was watching him. She also had someone out in WA keeping an eye on him as well. Last week she found out that he had been claimed in a $3,000 claiming race and that he would not be racing anymore because of a slight injury that flares up after he races. Nothing major but, enough that they decided he couldn't race anymore. He's perfectly sound for pleasure riding.
Again, Colette called Robbie Baze. She told him Morgan's story again, about how he had followed him and worried about him and had cheered him on in all of his races that he had watched on TV, as well as seeing him race at Saratoga. She told him about Morgan's love for horses and all animals. Robbie told her that they were planning to sell him to someone to use as a pony horse at a race track. A couple of days later Robbie called her back and told her that the owner had decided that Super Hero would be in better hands if he gave him to a special young man named Morgan. All she needed to do was pay his transport to New York from Seattle.
As many of you know, Morgan is a special needs child, suffering with a mild form of autism. He's a very intelligent child and loves all animals. They are drawn to him as well. He is an excellent rider, as is Colette, and Morgan was raised in his early years on the farm where his Dad lives.
Super Hero arrived at his new home on May 22, 2008.
More remarks from 5/23/08
Hi!! Robbie Baze, the trainer sent all of Super Hero's papers with him. Besides his Jockey Club papers, he also sent his entire history since he started racing. There is the certificate that nominated Super Hero to the Breeder's Cup, a certificate to run in Europe, a certificate that registered all four of his wins, a certificate of when he was endoscoped while T. Pletcher was his trainer. T. Pletcher was his trainer while Super Hero was racing in the east, before being claimed out of his race in Saratoga, the day Morgan & I saw him race & win. That Saratoga win was Super Hero's 2nd win. His first was at GP. Does anyone know what track that is? Super Hero has run a total of 13 races & he won 4. That isn't a bad win ratio... about 30% . But, he has a undiagnoseable problem with one of his front ankles. He races & is lame for about 2 days after the race. Multiple xrays etc. has never found the cause. But, when he arrived yesterday, all four feet were cool to the touch & not swollen or sore. I am thinking that maybe Super Hero stopped being competative in his races since the result for him was always discomfort in that ankle. I don't know if horses are able to connect the 2, but, maybe. All I know is that Super Hero carries himself like he is royally & know it. We have a 9 yr. old stallion, Oscar. Oscar is a beautiful blue eyed black & white paint. Oscar was in his stall when Super Hero first walked thru the barn since it was raining & Oscar tends to get 'rain scald' . Oscar made sure he introduced himself to Super Hero. He arched his neck, stamped him foot & squeelled & pranced around in his stall. Super Hero stopped & just looked down his nose at Oscar. He never said a word. But, he was not intimidated by Oscar at all. He just stared at him & did not move off until he was good & ready to. Oscar will never be turned out with Super Hero. I don't want to ever have a problem. Oscar's 'buddy' is a 40 yr. old Appie pony mare. They are inseperable. Daisy, the Appie mare, is too old for Oscar & he never tries to breed her. But, they eat from the same hay when turned out together & eat out of their own buckets in the paddock, side by side . Daisy comes in for her lunch meal, to the stall, as she is very hard to keep weight on due to her age. But, to see her trotting around the paddock with Oscar, you would never know she is 40 yrs. old. We do not believe in horses being alone while out in the paddock. We always find a buddy for them. But, for now Super Hero will rest & heal up & then see who he becomes attached to . I love to watch horses greet each other when they are turned out in the morning from their stalls. They always act like they have not seen each other in months. We have had some unlikely pairs, over the years. One is 2 Belgian mares & a Exmore pony. An Exmore pony is about the same size as a Shetland pony. I don't think Liberty, the pony, knows she is smaller...by miles!!! Stay tuned to who Super Hero buddies up with.
Super Hero still has all 4 racing plates on. Brian, my husband, was very impressed with the shoeing job. The shoes are put on with such precision. I had hoped to get his racing plates, & I did. He is still wearing them.
Discussion Board Thread
The discussion for raising funds to get Super Hero from Portland, OR to upstate New York
Media coverage
Inside Track: Happy Trails Bloodhorse 6/2/08
DRF story On Super Hero's Retirement
New career begins for retired Super Hero
Super Hero, a son of Fusiachi Pegasus who made his last start at Emerald Downs, is headed for New York. No, he isn't going to prepare for the Belmont. He is a 4-year-old, for one thing, and for another, he has never been a stakes-caliber performer. He is, however, a sound horse with a gentle disposition. That makes him perfect for his next assignment.
"He is going to be a saddle horse for an autistic boy named Morgan Mulhall in Monroe, New York," said Robbie Baze, who trained Super Hero for Ron Whited's K J Star Stable.
According to Morgan's mother, Collette Mulhall, her son saw Super Hero race last year in New York, when he was in Todd Pletcher's barn. Attracted by the horse's name, Morgan fell in love with him. Mother and son followed Super Hero's career through the Internet. He was claimed by Doug O'Neill and raced in California last fall, then he was sold to Whited and put under the care of Baze. He won 1 of 4 starts for his new connections last winter at Portland Meadows, but when he was unplaced in his lone start at this meeting Whited and his stable manager, Jerry Miller, decided to retire him.
"Right about that time Collette Mulhall called me and told me about her son, and we eventually decided to give Super Hero to her son," said Baze. "I understand that riding horses can be very therapeutic for autistic children, and our hope is that Super Hero will be good for Morgan."
Jerry Miller said there was just one hitch.
"We had already given Super Hero away to Lisa Baze," he said, referring to Robbie's second cousin. "As soon as we explained the situation to Lisa, she was gracious enough to let us give the horse to Morgan. We're happy with the way it worked out. When our horses are done, it is important to us that we find a good home for them. I can't think of a better use for Super Hero."
Life in retirement
Comments
What a wonderful story, and what a great way for Super Hero to make a transition to his new career! Will look forward to more updates on Super Hero and Morgan! GreyDot