Tim's Horses
From AlexBrownRacing
Revision as of 14:48, 14 September 2011; view current revision
←Older revision
| Newer revision→
Listed below are Tim Woolley's horses in training.
Current Horses
Abbey Rules
Pedigree: Roman Ruler
Owner: David Charlton
3yo filly, made one start as a 2yo. Should be ready to run the end of April.
Luke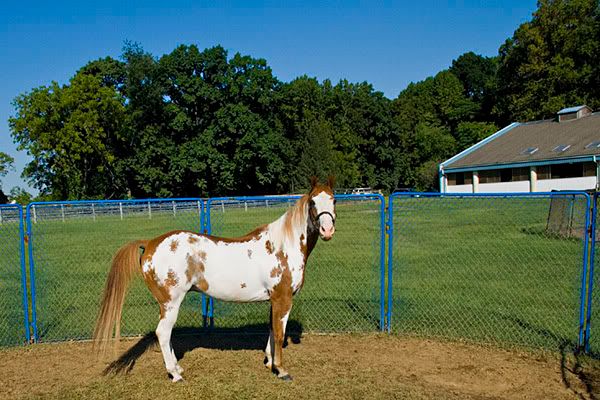 Pedigree: Unknown
Luke is the stable pony. He is the hardest worker on our team, whether it is keeping company to some of the younger horses when they go to the track or overseeing the works of Redaspen.
Luke has been with the barn for seven years and we hope for many more.
GracyMyGracy
Pedigree : Lion Hearted
Owner: Lapidum Heights Farm
Two Year old filly. One third in two starts... Maryland Bred..
Sweet City Band
Pedigree: City Zip
Owner: Two Legends Farm
Two year old filly, two starts.. Looks like a turf campaign in her three year old year...
Ava Ravina
Breeding: By Southern Image Out of Dusty Ravy
Owner: Mr. and Mrs. Karlson.
3yo filly. Should be having her first start in the end of March.
Quiet Victory
Pedigree: by Vindication

Owner: Mrs. Grace Ritzenberg
2 Year Old colt. He is progressing nicely towards his debut...
Caymus
Owner: Vintage Thoroughbreds
Pedigree: by Smoke Glacken
2Year Old Gelding, he has had a lot of time to mature and should be racing as a three year old.
Lizzie's Legend
Pedigree: by City Zip out of Lunar's Legend
Owner: Two Legends Farm
3yo filly. Just returned back from a lay up and is unraced with loads of potential...
Stonybrook Slew
Pedigree: 3yo by Special Times out of Sugah Slew
Owner: Stonybrook Farm
3yo filly, should be ready to run sometime in April 2010.
Sweet Ginger Brown
Pedigree: Smoke Glacken
Owner: David Charlton
4yo filly. Won a couple of races in 2009 at Presque Isle. Now to try to the turf this summer.
Great Patriot
Pedigree: by During
Owner: Patriot Stable
Won in January 2010. A consistent type.
So Special
Pedigree: by Special Times
Owner: Grace Ritzenberg
3yo, big , unraced and needs plenty of time to mature.
Beloved Graduates
Real Lace
Owner: Equivine Farm
4yo Real Quiet filly.
She had a decent campaign early in the 2006 year. She had some time off over the summer and then came back looking very sharp. She won two races at Laurel in the fall in impressive fashion. She had some time off over the winter and has been training forwardly for her debut at Pimlico.
A nice first start in 2007. An allowance race, originally scheduled for the turf was switched to the dirt due to the wet weather. She led for most of the way but was headed at the eighth pole and finished second. She cooled out well.
Real Lace ran second on Saturday December 15th and was claimed from us in the process. We miss her everyday. We wish her nothing but the best and hope she lives a long and happy life.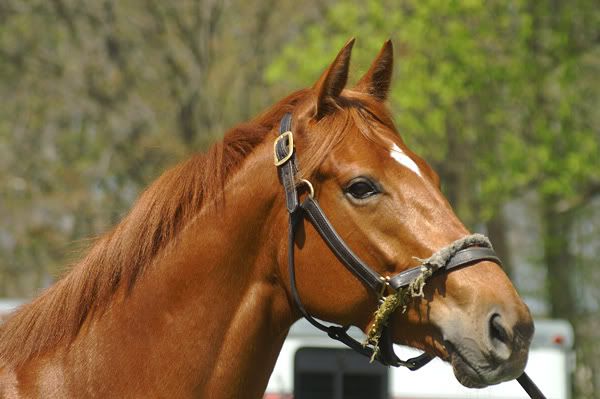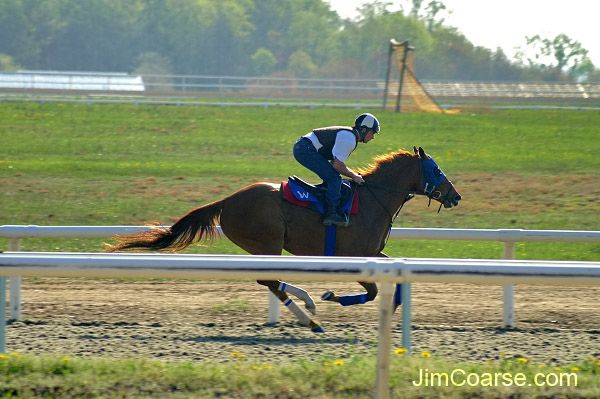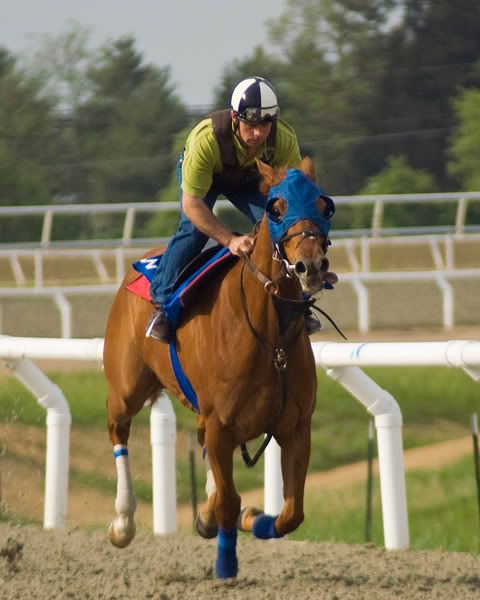 Penny - no need to take this BEAUTY off the page, please keep her up for a LONG time! :) swedishkat
I hope you keep this beautiful girl's pictures on your website for a long time,Penny,she is one of my all-time favorites! Ruth Ann
I feel the same as Kat and Ruth Ann, Penny. Please keep her pictures here! Roseann
Penny, tears of joy, Real Lace is back home and safe!Ruth Ann
02/12/10 - R.I.P. Real Lace, you are loved and will never be forgotten. Ruth Ann
RIP, Lace. We love you very much, beautiful girl. Mary in MD
Redaspen
Owner: Equivine Farm
Stakes winner at three, four, and five, including some on turf. Now retired to broodmare duty.

Has a filly by Mr. Greeley by her side and has now been bred to Curlin! We hear that she is having a colt this time.
Who's Happy
Who's Happy has moved on to being a mom. She has been bred to Real Quiet and took on the first cover.
Veiled Reference
Veiled Reference has retired from racing and has now been bred. We have not heard for definate if she is in foal or not.
Powdered Donut
Owner: Marty Carmichael

Donut is now retired from racing after her complications from surgery. She won two races with us last year and was only out of the money once in six starts. Having survived her surgery is a true testiment to her determination.