Boyle Heights Kid
From AlexBrownRacing
Revision as of 10:58, 5 October 2011; view current revision
←Older revision
| Newer revision→
Boyle Heights Kid (Tinner's Way x Sculpture by Hail to Reason) 16.3h 1998 dark bay gelding 17 starts (3-2-2). "Boy" as he is affectionately known around the barn, was retired in July of '04 after a check ligament injury to his left front ended his racing career. He came to us in August of '04 after my aunt decided she wanted to foster an ex-racer. She passed away 3 months later. If it weren't for her, I don't know that I would have the wonder of this horse in my life. He is by far, one of the most important things in my life.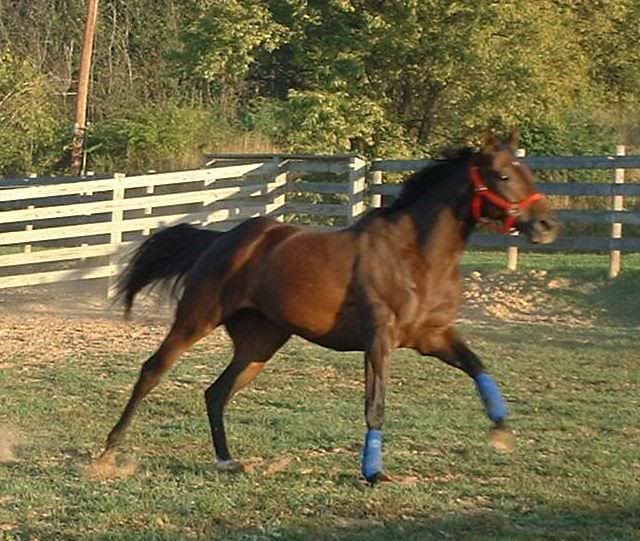 Boy's sire Tinner's Way
Grandsire Secretariat
Great-Grandsire Bold Ruler
Dam sire Hail to Reason

An email from breeder Dr. AC Asbury in May of '07:
Amy,
How nice to hear from the owner of Boyle Heights Kid, and to notice that he is located with an appreciative owner. Unfortunately, I am not a very successful photographer (even with the newer technology) so your pictures are the first recent ones I've seen of him since he left us in 1999. He looks like his mother, which is a flattering comment. We bought the mare in Florida from a Kentucky agent, thinking she'd have a chance to produce a decent racehorse. The first foal she produced for us was Rockstone, by Copelan. We sold him as a weanling, In Kentucky, and he earned right at $200,000, racing in Canada. Sculpture was a very nice mare in disposition, who developed serious vision problems as she aged. You find out how steady they are when the cannot see well. Our local veterinary ophthalmologist diagnosed her with Glaucoma, a fairly rare disorder in horses. But for her last several years we teamed her up with a younger mare, by Native Royalty, who escorted her everywhere, and really extended her life.
I will never forget the afternoon she foaled the Tinners Way. We had acquired a small farm here in Versailles, and all of our stock (three mares and assorted youngsters) was there. Scully was very anti-social at foaling time, so went to the far end of a 5 acre field, where she lay down and foaled. No problem! But she wouldn't get up and get to the barn, on what threatened to be a cold night. So I carried the big colt, kicking and struggling, for what seemd like a mile. Dumped him in the stall, which suited him well, as he jumped right up and started to nurse! We have sold the farm and moved our remaining mares to a neighboring farm. One has a yearling that we'll sell in July, by Perfect Soul. Like always, we feel this is the one!
My Wife and I moved to Kentucky from Florida, when I retired from the College of Veterinary Medicine, 20 years after moving there from California. We're still committed to breeding a good horse!
If you ever get this way, bring your son, and we'll show you both around the great farms and facilities of Central Kentucky!
Sincerely, Woody Asbury
After some much needed rest and TLC, he's fat and happy. He's a big goof ball and loves his butt scratched. It has been determined that his ICL injury was mis-diagnosed and he has been cleared for jumping by the vet. We are currently in dressage training with trainer Melissa Jones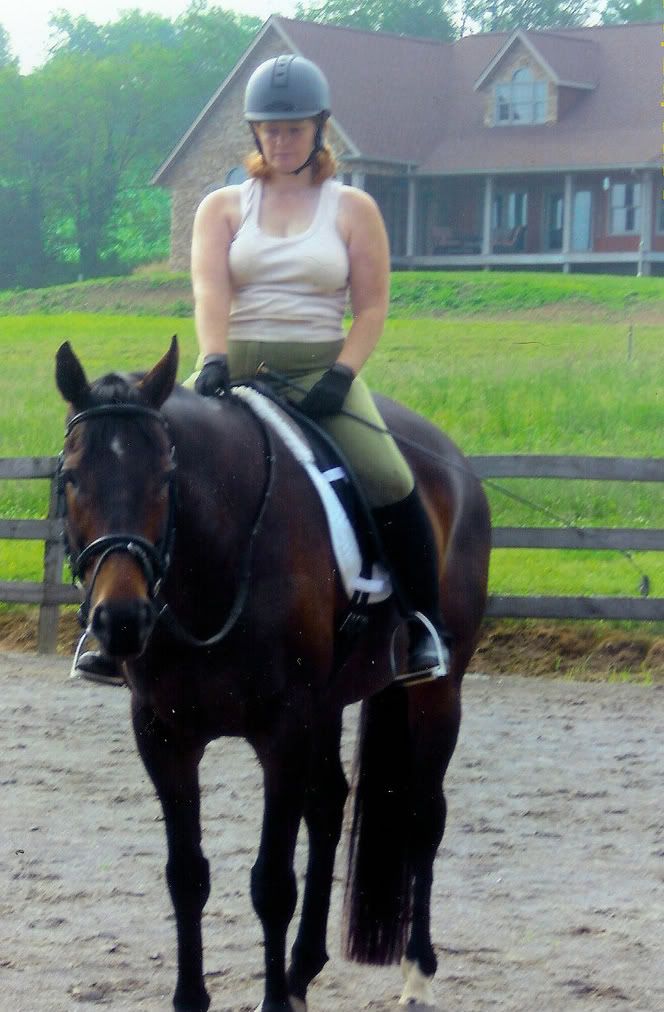 He's jumping now! He said he would rather be a hunter than a dressage horse!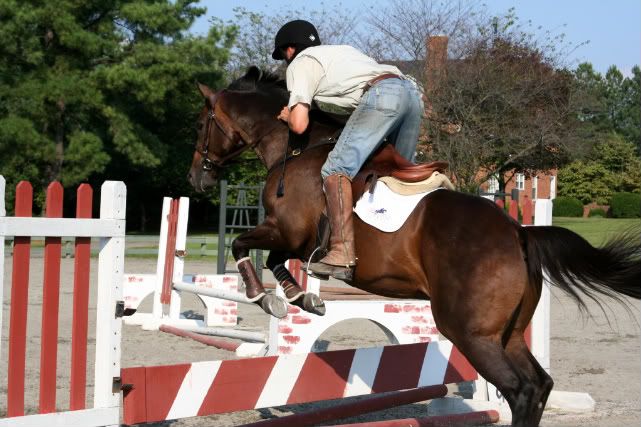 Look at him standing there with one leg cocked like an old school horse!
Comments
Hi- I have a Tinners way filly. She is just starting her dressage training. she is only 3. She is so smart and willing. She took after her daddy in her disposition.. She is a appendix Qh and a Palomino. I love to see other Tinners out there. He was one of my favorite race horses. Good luck with him. the Secretariats Make great dressage horses.
WOW - what a BEAUTY!!! Can't wait to read more about him and see more pics. You are a lucky person, to end up with him, and him with you! :) swedishkat
Thank you very much! I should have more pictures up soon :) BHK
I just checked out his pedigree - VERY impressive! He is a grandson of Secretariat AND Hail To Reason, and a great grandson of The Minstrel!! WOW! I was curious because his face looked so much like FuPeg's...but no relation really. swedishkat