Watch ALL pictures from Beanie Barbaro's JOURNEY
From AlexBrownRacing
Hey Dad, It's Me...Barbaro!
Dynaformer & Beanie
Beanie at the Kentucky Derby 2007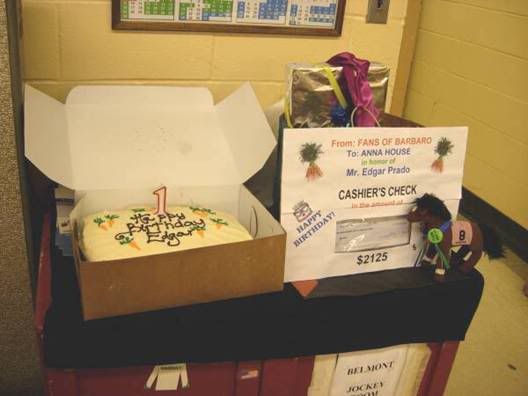 Edgar Prado's BD-party
...at Anna-House
Beanie @ Belmont!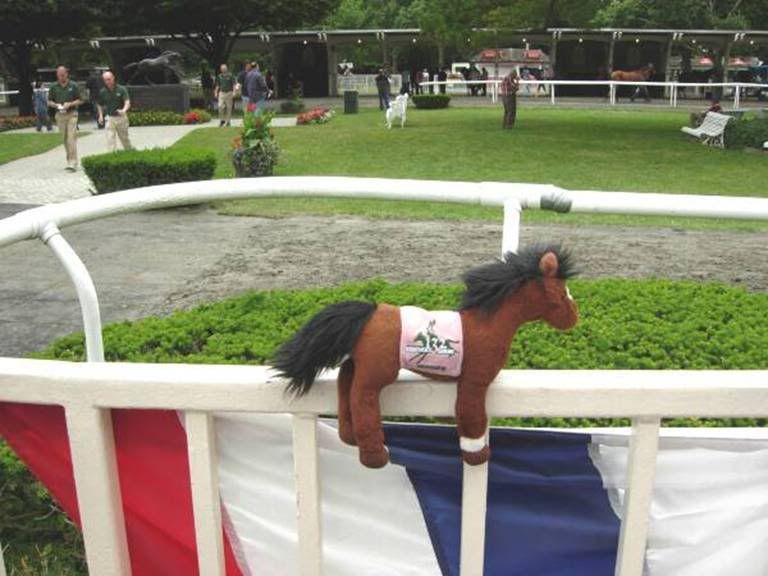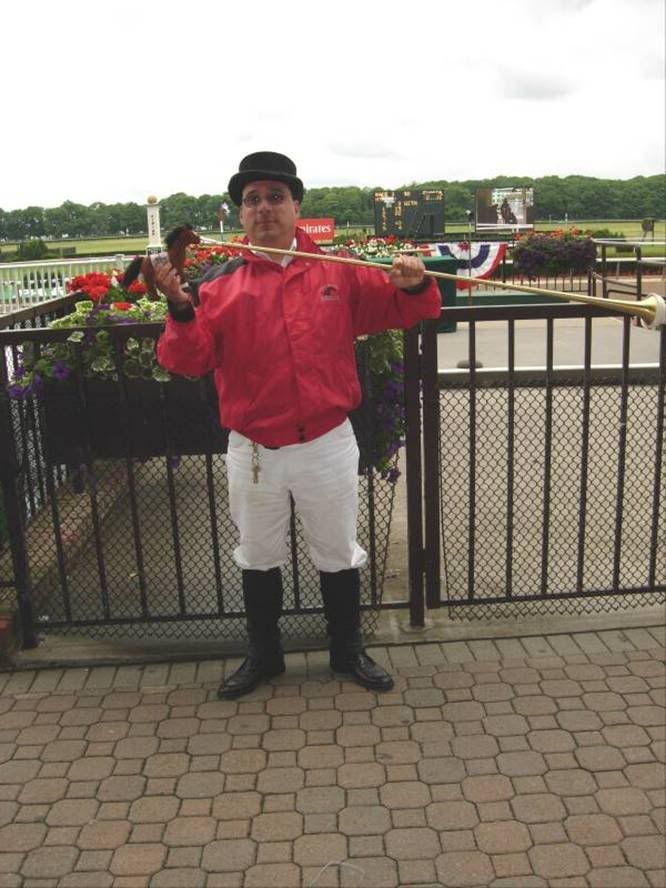 FOB at Barbaro's BD-celebration 4/29
Tim Woolley ...........................................Mike Rea ................................Dr Kathy Anderson
@ Fall River, MA
"Aoouuch"
Walking on Spirit of 1/29's right wing
Beanie in Washington DC
Beanie at Kennett Florist's
.............................
Kathy Freeborn,Barbarose bush, NBC ................with cows at NBC
Beanie at Arlington Park - Midwest Fans of Barbaro Day
Beating John Henry and The Bart for the Arlington Million:
Beanie Meets Midwest FOBs!:
Beanie in the Winner's Trophy!:
Beanie in Winner's Circle:
Beanie makes friends with one of the outriding horses named Cash:
Beanie at Arlington Park Honoring Mrs. Jackson
BB with The Jacksons:
...more to come (I hope LOL) - please ALL, add pictures!!!
Beanie visits North Dakota 9/14/07 - 9/16/07 Host: Karen Borstad My husband, Paul, and I took Beanie on a 935 mile road trip from Fargo, ND (on the ND-MN border) to far western North Dakota (Teddy Roosevelt National Park and Medora, ND and Watford City, ND)and home again.
This is Beanie in front of the historic Fargo Theatre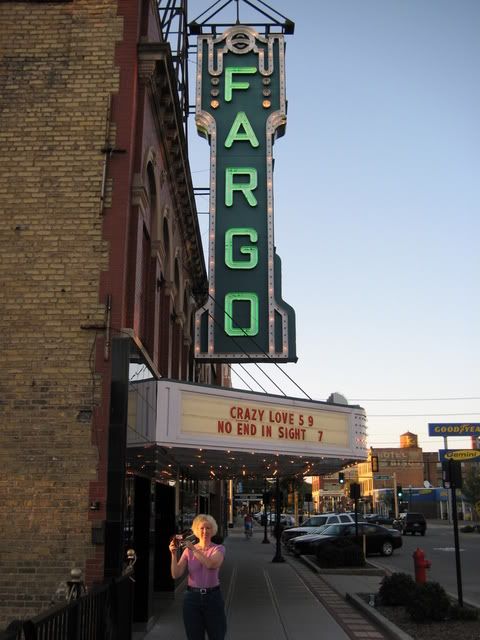 Beanie eyeing a treat from our garden.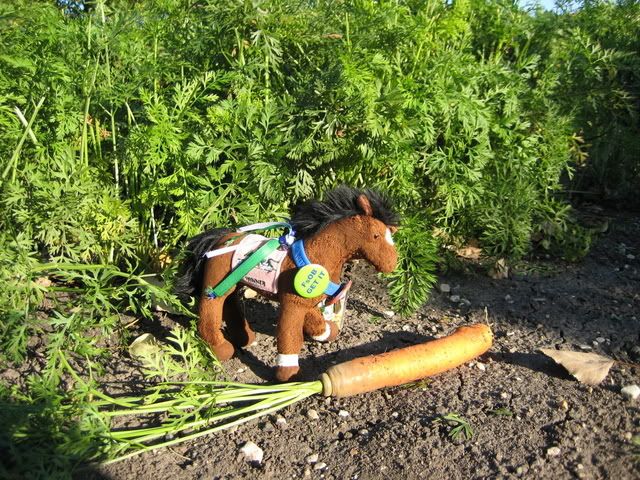 Beanie in Jamestown, ND visiting the World's Largest Buffalo. (Giant animal statues are quite popular in the upper midwest. I'm not sure why.) The buffalo is 26 feet tall and weighs 60 tons. We also visited the National Buffalo Museum and saw a new albino calf born to White Cloud, an albino buffalo herself.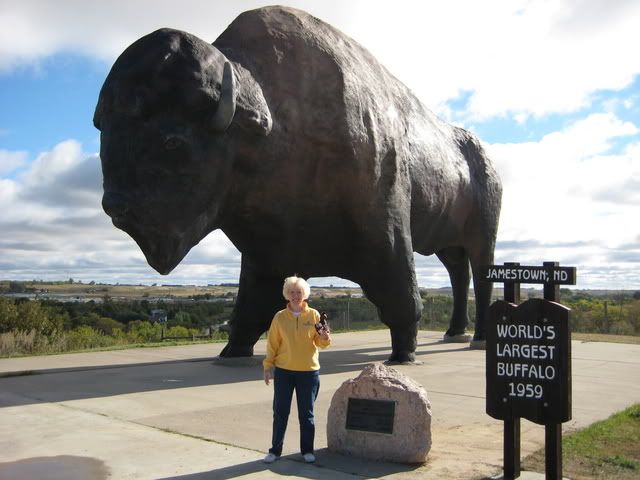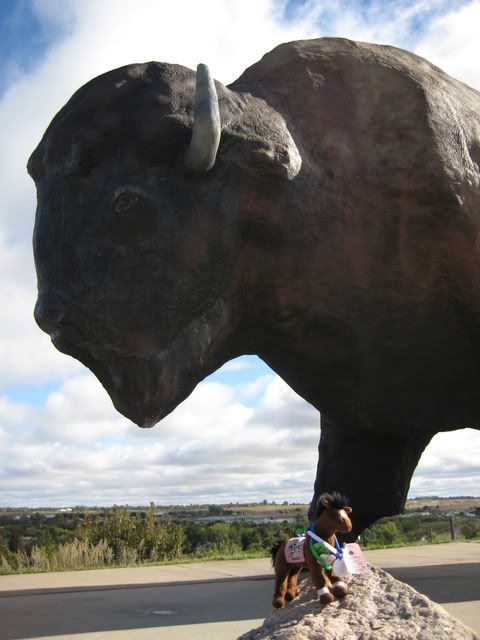 Here's Beanie by the hoof of the buffalo.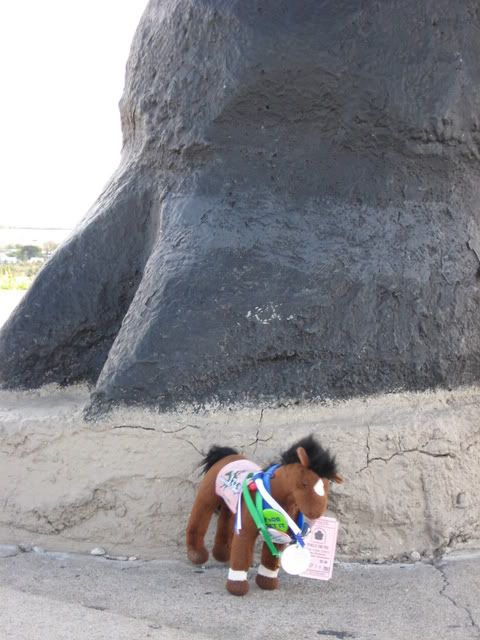 We then visited the Nokota Horses in Linton, ND. This unique breed of horse is thought to be descended from Sitting Bull's war ponies, confiscated by the U.S. Army after Sitting Bull's surrender in 1881. Much research has been done by a Nokota Horse Conservancy supporter and Harvard researcher, into the link between the ponies and the Nokota horses. The Nokotas were named the official State Equine of North Dakota. The Indian ponies were sold in large part to two individuals, one being the Marquis de Mores, who founded the town of Medora, ND. The horses were set out to range in the ND Badlands. When the National Park Service fenced in Teddy Roosevelt National Park, the horses were trapped inside the fence and became Park property. A small herd is maintained as a "native animal" to the Park for the viewing pleasure of the public. The National Park Service throughout the years sent many of the foundation horses to auction, where, before the Kuntz brothers became involved in their preservation, many were sent to slaughter. In more recent years, the NPS tried to make the horses "more saleable" at auction by introducing Quarter Horse and Thoroughbred blood into the herds. Luckily, Leo and Frank Kuntz made it their life mission to preserve the foundation stock as much as possible and began buying original horses at auction. The NPS has dismissed the Kuntz brothers' claim of the horses' link to Sitting Bull. The NPS refuses to accept anecdotal evidence, although fully researched and documented with photos and writings, maintaining the only way to believe the story is with a DNA test and since DNA testing was not available in Sitting Bull's time, that position effectively allows the NPS to continue to round up and sell the horses at auction without a safety net of any kind. The Kuntz brothers maintain several herds of horses, both foundation stock and what they call Park Horses, or those with part foundation blood mixed with QH or another type of breed. The foundation Nokotas are 14-15 hands high and the Park Horses are larger. Since the Indians prized color in their horses, the Kuntz herd is said to be the largest blue roan herd in the world. There are also many red and strawberry roans and paints, among other colors. The horses are friendly, inquisitive and hardy. The horses are left in a fairly wild state, allowed to roam in large pastures without much human interference. They are supplimentarily fed hay in the winter. We spent five hours on pasture tours and loved every minute of it. I am an enthusiastic Nokota supporter.
 

This little guy was very curious and brave, allowing us to touch him all over. Had he not already been sold I would have tried to fit him into our car to take him home!
The next day we visited the state capital in Bismarck, ND.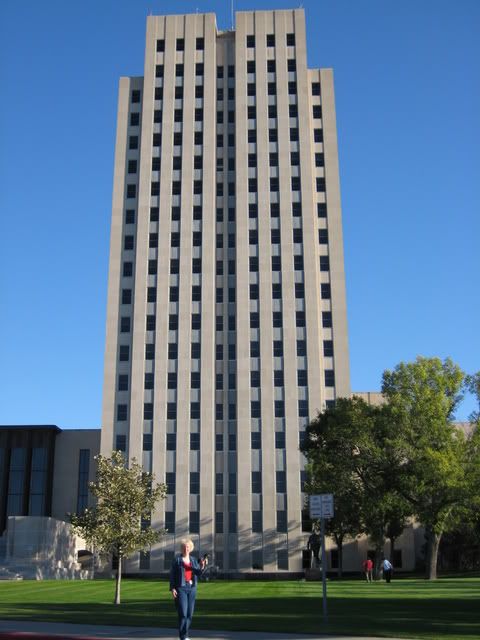 Next we headed west to New Salem, ND to see New Salem Sue, the World's Largest Holstein Cow. She stands 38 fet high and weighs 12,000 pounds. She overlooks Interstate 94 and the fairgrounds where a local rodeo was gearing up.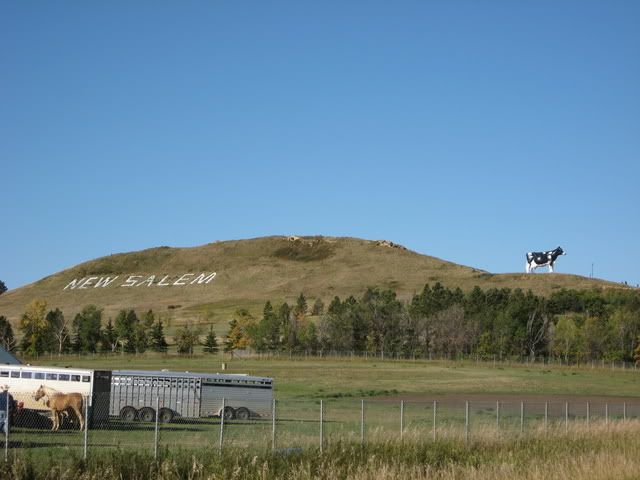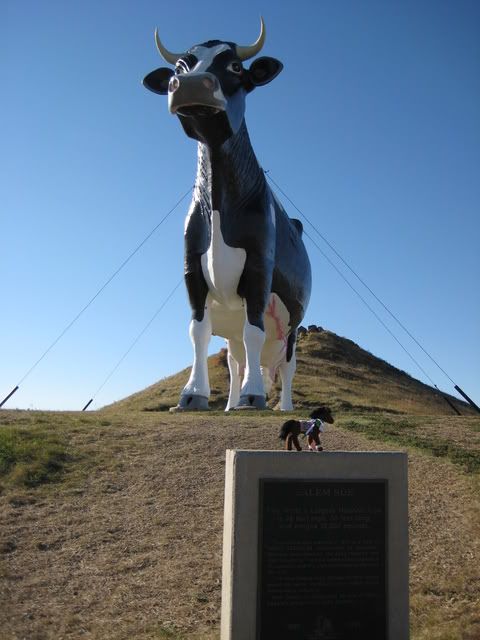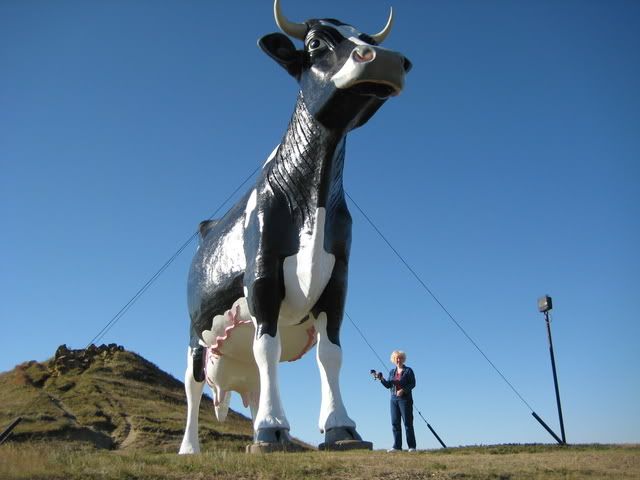 The view from Sue's standpoint
From there we drove west to the ND Badlands, Teddy Roosevelt National Park and the town of Medora, ND. The view at Painted Canyon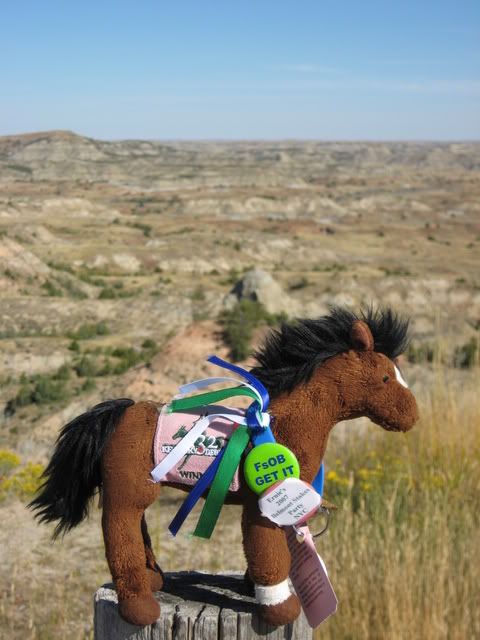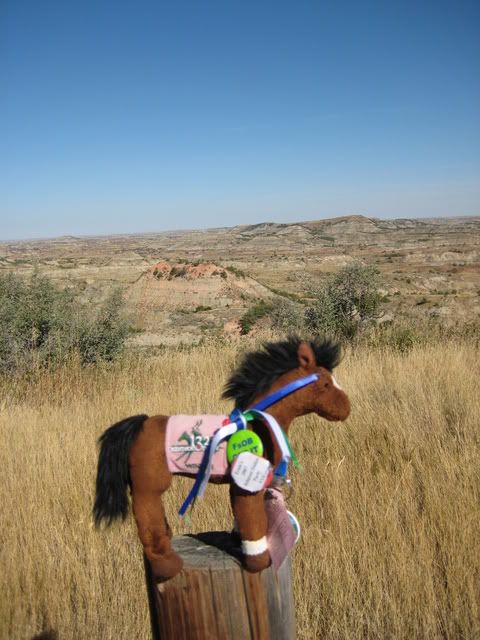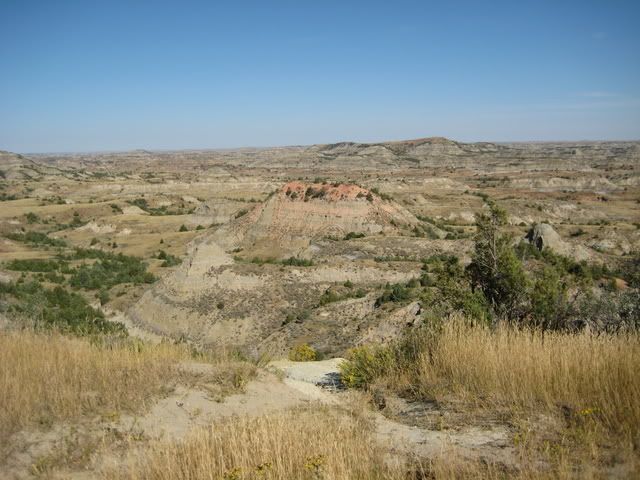 Beanie at the South Unit of Teddy Roosevelt National Park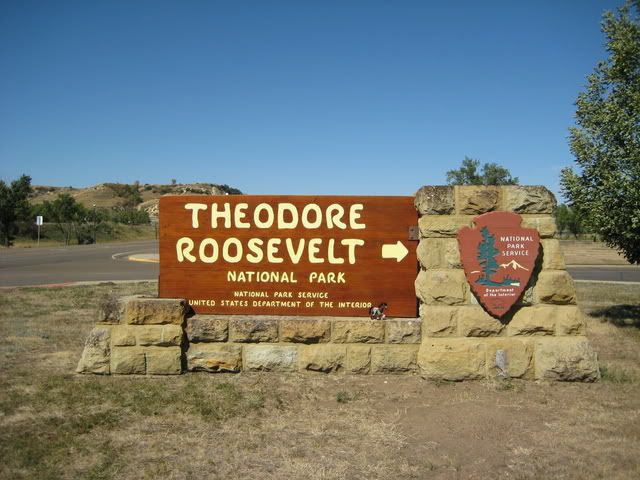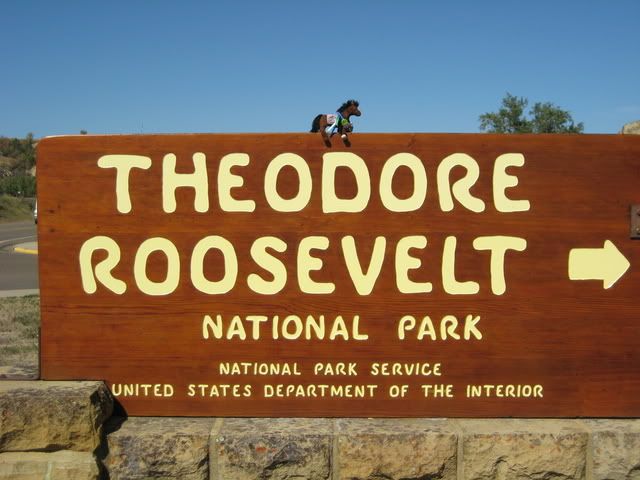 Beanie at Bully Pulpit Golf Course just outside Medora, ND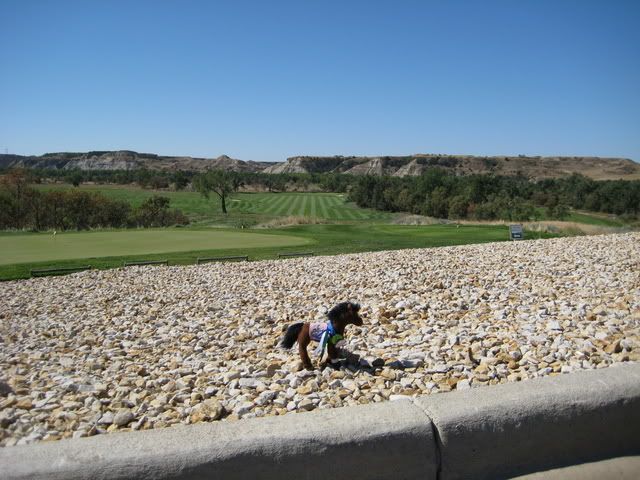 We then attended a family wedding in Watford City, ND before heading home the next day. We took Beanie to the Lewis and Clark Interpretive Center near Washburn, ND where he posed on a metal sculpture of Lewis and Clark meeting outside Fort Mandan with Chief White Coyote the first winter.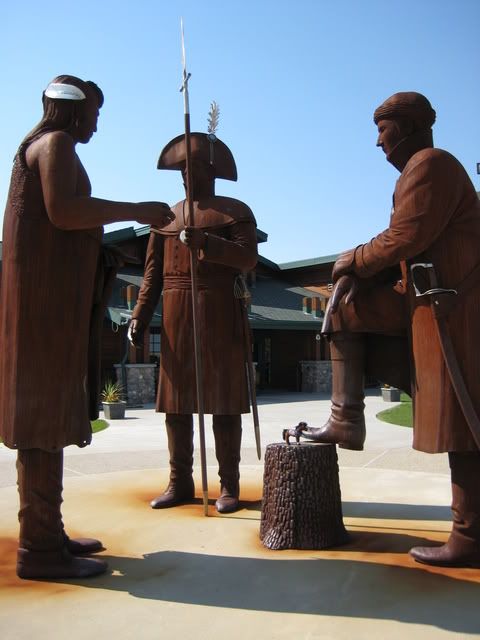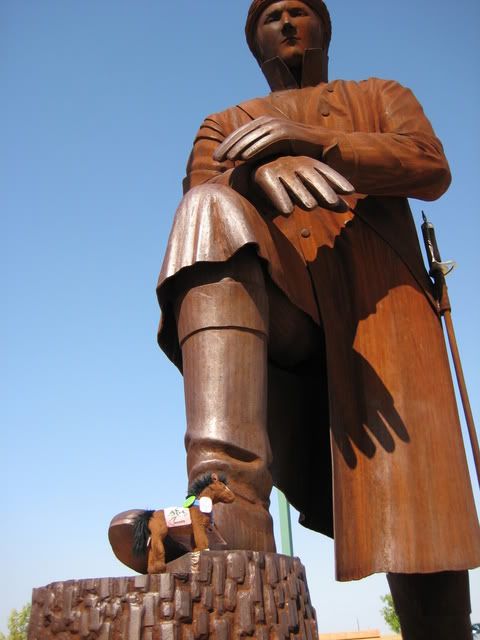 Beanie Barbaro at the 2008 Celebration
Beanie Barbaro on the East coast
To begin with: he survived the 11 hour drive home from Louisville, KY last weekend from Eight Belles Memorial. He was so tired he slept for 3 days. Then he decided to come to work with me and have his pic taken on our UPS Computer. He HAD to see this computer because this is the machine that sent all the goodies to his beloved Barbaro while at NBC. This machine actually sent 50 lbs of carrots to the donor horses. It sent tons and tons and tons of M&M's to Dr. Dean. And other stuff to the staff and Corinne. Everyone at Lennox absolutely loved him and had to give him a great big hug.
Next stop on the way home that night, Beanie Barbaro stopped in at Flanders, NJ to visit my granddaughter Kaitlyn. She game him lots of hugs and cried when she had to let him come to return to Bushkill, PA.
Yesterday was a great big day for Big Brown with another win, but a great big day for Beanie Barbaro also as he was right there watching it all. He enjoyed posing at the track in front of many signs with Sharon Meyers and myself. What a beautiful horse Big Brown is and it was so exciting to watch him win, although worry took over thinking about past races and our losses. (GrandmaBeaG1)
With JAKE in Maine:
Beanie Barbaro is a Mainah!
Who says college is easy?! He'll be working on that for a while (yes, the book in the foreground is in Russian)...