Rags To Riches
From AlexBrownRacing
Video Recap of the Short and Brilliant Career of Rags to Riches
Rags to Riches Racing Victory Video Clips
This video contains footage from the 5 victories by Rags to Riches in 2007
1. Maiden Race
2. Las Virgenes Stakes
3. Santa Anita Oaks
4. Kentucky Oaks
5. Belmont Stakes
Rags to Riches FIRST FILLY IN 102 Yrs to win the BELMONT!!!!

Alex Brown Forum Discussions on Rags to Riches Winning the 2007 Belmont
Rags to Riches Delivers Her Second Foal (a Colt) on Wednesday, March 17, 2010
It's a Boy! Rags to Riches Gives Birth to First Colt
Champion Rags to Riches, winner of the 2007 Belmont Stakes (gr. I), delivered a Henrythenavigator colt March 17 in Ireland. Rags to Riches is scheduled to be bred to Galileo, who stands at John Magnier and partners' Coolmore Stud in Ireland. Henrythenavigator stands at Ashford Stud, a division of Coolmore, near Versailles, Ky.
Rags to Riches Delivers Her First Foal (a Filly) on Monday, March 9, 2009
Champion Rags to Riches' First Foal
The first foal produced by champion and classic winner Rags to Riches was born on Monday, March 9, at 9:30 pm, at Ashford Stud near Versailles, Ky. Rags to Riches, owned by Derrick Smith and Michael Tabor, had a Giant's Causeway filly.

Video Tributes for Rags' First Foal
Rags' Filly Taking After Her Mother
Rags To Riches and her foal (New pictures!)
Rags To Riches had her foal!!!
March 24, 2008: Rags to Riches Retired: Her Life as a Broodmare Begins
Champion Rags to Riches retired
Champion Rags to Riches, who became the first filly in 102 years to win the Belmont Stakes (G1) when she defeated eventual Horse of the Year Curlin last June, has been retired after re-injuring her right front pastern. "She has re-injured her right front pastern and because of the timing, the decision was made to retire her as opposed to trying to bring her back in the fall," trainer Todd Pletcher said. Owners Michael Tabor and Derrick Smith will breed their four-year-old A. P. Indy filly to Giant's Causeway at Ashford Stud in Versailles, Kentucky.

2007 Belmont Stakes winner Rags to Riches retired
"It's the same injury, a hairline P1 fracture, and it just looked like it wasn't going to hold up," Pletcher said. "I wasn't happy with the way she galloped yesterday [Sunday], we took some additional X-rays, and after discussing the situation with Mr. Tabor, we agreed it wasn't worth the risk of continuing on with her." Pletcher said Rags To Riches will be bred to Giant's Causeway later this spring.
Sept. 17, 2007: Sunday a sad day in the Pletcher barn - Farewell for a Bit
Rags to Riches left Belmont Park for Ashford Stud in Versailles, Kentucky, around noon today. The owners and Todd decided it would be best to give her 6 weeks off to help heal her injury. Sunday was a sad day in the Pletcher barn when this decision was made.
Heart Breaking News - September 16, 2007: Rags to Riches Sustains Hairline Fracture in the Gazelle
NTRA Article - Rags to Riches Injured; out for the year
"The injury is not career ending, and she is expected to make a full recovery," Pletcher said in a press release. "It appears as though she sustained the injury during the stretch run. When she switched to the right lead, she came off the bridle and lugged in a bit. Though she cooled out fine following the race she appeared to be slightly off this morning.
"Subsequent X-rays discovered the hairline fracture," Pletcher added. "She is resting comfortably and will ship to Ashford Stud tomorrow where she will receive six weeks of stall rest to give the fracture time to heal. At the conclusion of her convalescence she will be re-X-rayed to determine when she will resume training. She will not race again until 2008."
Updated July 31, 2007: Rags to Riches Heads to Saratoga
Rags to Riches had her final gallop this morning at 6 a.m. ET at Belmont Park. She resumed training yesterday and was her usual happy self on the track both mornings. She is doing well and looks great.
She loaded on the van at 8 a.m. ET with her barn mate Octave and the van arrived in Saratoga around noon. We were told she was welcomed by a group of fans and reporters as she pulled into the Spa.
We will miss her here but hopefully she will return to us next month after Saratoga's racemeet ends. She definitely left her mark here, as she bit me leaving a large bruise on my leg this morning while she was on the track. She had to make sure we knew who was in charge one last time before she shipped out! Rags Galloped this morning, will gallop tomorrow, and then van to Saratoga
"The Alabama is a possibility," Pletcher said, adding he would be at Belmont to supervise the gallop. "I need to watch her train for the next week and obviously how she breezes. All of that is going to be critical in terms of what has become a tight schedule. I'll play that by ear for the remainder of the week and go from there."
Rags to Riches Health Concerns Delay Return to Track
Pletcher is still waiting to hear the results of Dr. Thorpe's findings
Rags to Riches is at her stall at Belmont Park after getting examined by Paul Thorpe, the attending veterinarian of owners Michael Tabor and Derrick Smith. Pletcher is still waiting to hear the results of Thorpe's findings.
Thorpe was still in the process of going over his findings and also looking over X-rays taken at New Bolton Center in Philadelphia. Rags to Riches had the equine overhaul after being pulled up during a work a week ago Sunday at Belmont Park.

Paul Thorpe, D.V.M. attending veterinarian for owners Tabor & Smith, will review New Bolton results and conduct 3rd exam
Trainer Todd Pletcher said between races Friday afternoon at Saratoga Race Course that Rags to Riches is "50-50" to make her next scheduled start in the Alabama Stakes (G1) on August 18 at Saratoga.
"I don't have a great understanding of it, but a lot of the tests are subject to how you read them. I know that there's nothing majorly wrong with her. We did enough tests before she left Belmont to know that."

Local Vet Finds Rags Sound - Team Pletcher Taking Every Precaution
ELMONT, NY -- 2007 Belmont Stakes winning Filly Rags To Riches appears to be sound and in good condition after being examined by Dr. Steve Allday, this morning at Belmont Park.
Under Dr. Allday's recommendation the filly will be sent to New Bolton for a complete physical. "Although everything seems to be fine, in order to be thorough she will have a complete physical done, " said Pletcher. "Though her race plans will be made after the exam, she remains under consideration for the Alabama, at Saratoga, August 18."
NEW YORK - Belmont Stakes winner Rags to Riches has a slight fever and won't run in Saturday's $300,000 Coaching Club American Oaks.
The 3-year-old filly sensation was expected to be the overwhelming favorite in her first race since becoming the first of her sex to win the Belmont in 102 years.
"We're going to pass on the Oaks," Rags to Riches trainer Todd Pletcher said Monday morning of the Grade 1 race for fillies. "Her temperature was 101 degrees — not high but a little beyond normal range."

Rags to Riches prompts TV shift
The presence of Belmont Stakes winner Rags to Riches in the Grade 1 Coaching Club American Oaks at Belmont Park on July 21, has prompted officials from ESPN to make a dramatic change to its television schedule.
The CCA Oaks, restricted to 3-year-old fillies, was to be shown on delayed tape during a one-hour broadcast on ESPN2 that was to have originated from Del Mar and included live coverage of the San Diego Handicap beginning at 7 p.m. Eastern. Now, the CCA Oaks will be shown live on ESPN in a one-hour telecast from Belmont beginning at 5 p.m. Eastern. There will be no live coverage of the San Diego.
"Rags to Riches is a story," said David Miller, the senior coordinating producer for horse racing at ESPN. "She was a huge story in the Belmont, being the first filly to win in 102 years. We want to document it and be the source of record for the sport."
---
Belmont Win Videos
2007 Belmont Stakes in Review - Includes Pre and Post Race Fluff
2007 Belmont Stakes - Race Footage and Tom Durkin Call
2007 Belmont Stakes Spectator Video of Stretch Run
2007 Belmont Stakes Spectator Video of Complete Race
2007 Belmont Stakes - Great USA Today Slide Show Recap
2007 Belmont Photos
Stumbling at the Gate and Recovering to Win: A MIRACLE!!!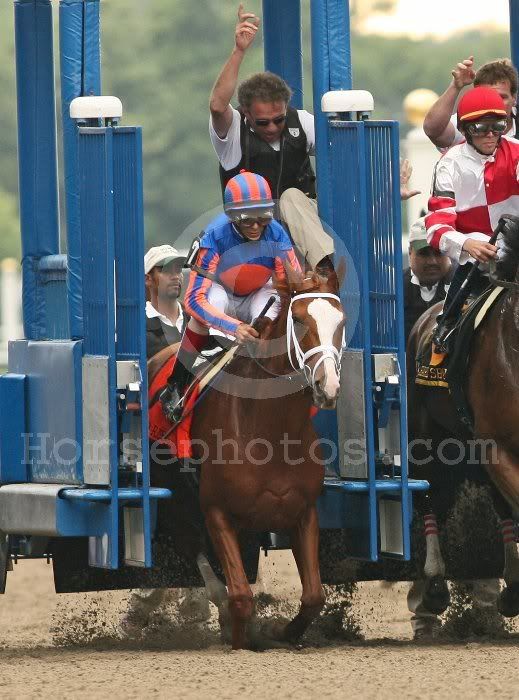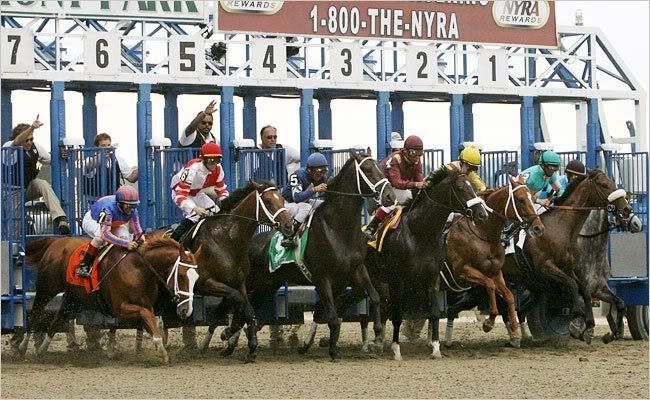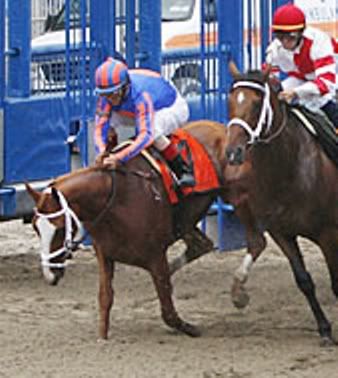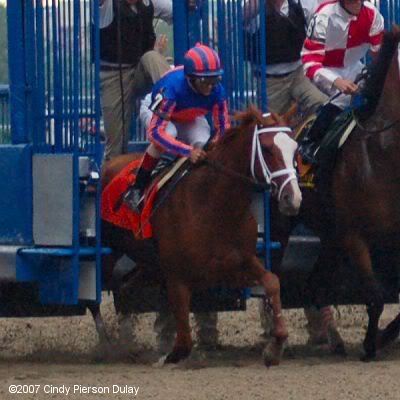 Articles: Rags to Riches Wins the Belmont!!!
It's the filly! Rags to Riches takes Belmont Stakes

Rags to Riches puts Levy County training on display for world
Video Tributes Honoring Rags to Riches
Run, Rags, Run! Music from Forrest Gump
Rags Tribute: Music Rose from Titanic
Rags to Riches Tribute: Music The End from National Treasure
Rags to Riches –Belmont 2007 Week
A Filly for the Ages Slide Show from Bloodhorse.com
Rags to Riches, Against the Music
Rags to Riches, Promiscuous Girl
Pictures from her Kentucky Oaks Win

(first and 3rd photos credits of webshots/takechargelady)
Guess who will run against the boys at the Belmont!!!
Washington Post: Rags to Riches to Make Run at the Boys
Rags to Riches will Race the Boys in Belmont MSNBC Article
Rags to Riches confirmed for Belmont ESPN Article
Rags Photo Gallery
---
Entries for the 2007 Belmont Stakes

The field for the $1-million Belmont Stakes (G1), in post position order, with (sire), jockey, trainer, and morning-line odds:
1. Imawildandcrazyguy (Wild Event), Mark Guidry, Bill Kaplan, 20-to-1;
2. Tiago (Pleasant Tap), Mike Smith, John Shirreffs, 10-to-1;
3. Curlin (Smart Strike), Robby Albarado, Steve Asmussen, 6-to-5;
4. C P West (Came Home), Edgar Prado,Nick Zito,12-to-1;
5. Slew's Tizzy (Tiznow), Rafael Bejarano, Greg Fox, 20-to-1;
6. Hard Spun (Danzig), Garrett Gomez, Larry Jones, 5-to-2; and
7. Rags to Riches (A.P. Indy), John Velazquez, Todd Pletcher, 3-to-1.
Horse Racing Nation Page on Rags to Riches
What the Nation is saying about Rags To Riches...
Pedigree and Racing History
Rags to Riches Pedigree

Sire AP Indy
GrandSire Seattle Slew
Secretariat there also!

Graded Earnings: $662,428 (as of 05.04.07) Race Record: 5-4-0-0
| Date | Race | Finish |
| --- | --- | --- |
| 06.09.07 | Belmont (GI) | 1st |
| 05.04.07 | Kentucky Oaks (GI) | 1st |
| 03.10.07 | Santa Anita Oaks (GI) | 1st |
| 02.10.07 | Las Virgenes (GI) | 1st |
| 01.07.07 | Maiden @ Santa Anita | 1st |
| 06.10.06 | Maiden @ Churchill | 4th |
Rags To Riches 3 yo half brother CASINO DRIVE
Casino Drive "monster from Japan" ABR 2/27/08
Videos of 2007 Rags to Riches Races before Belmont
Kentucky Oaks Video 5/5/07
Santa Anita Maiden 1/07/07

Rags to Riches and Her Great Grandad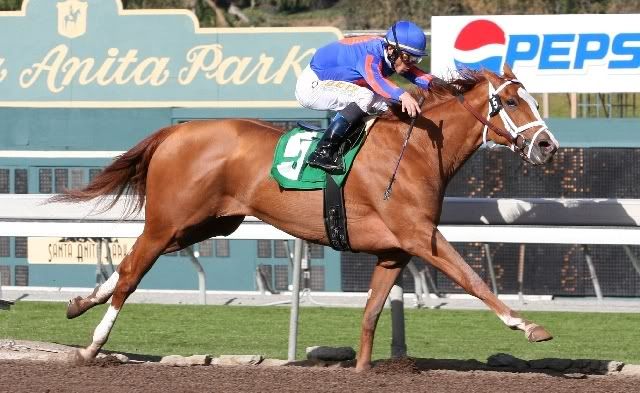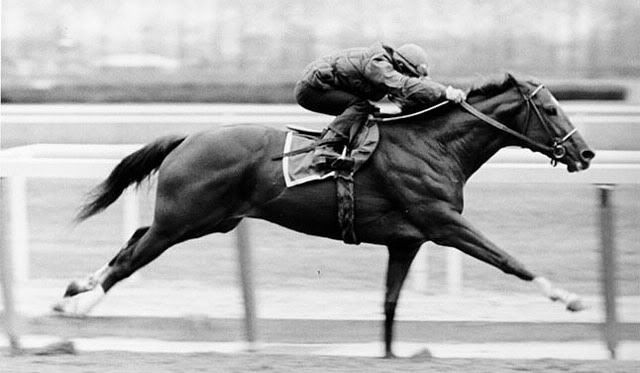 Rags to Riches Racing News
News beyond the Belmont Win
Rags to Riches might face boys again
Express Your Thoughts, comments and Feelings about Rags to Riches here!
This WIKI Page for Rags to Riches started by Mary L Ohio A HUGE Fan of this filly.
---
A Must READ!!  Rags & what she means to me...

did you know that her "1/2" brother Jazil (share the same dam) won the Belmont last year? Wonder if it will be in the "genes" to do so again?!
This was in an e-mail from a friend of mine: Yes, yesterday was a lovely day of racing, wasn't it? I thought Curlin had the best shot, but I felt Rags to Riches had a real chance and was rooting for her. Had I been at Belmont, I would have bet her! She's a very talented filly, and I like her a lot. I got to spend a long time watching her at Pletcher's Keeneland barn, and took dozens of photos of her. I also saw her working in tandem with Circular Quay, towering over him (and beating him in the works, too). She looks very sweet and innocent in her stall, but she'll try to take a chunk out of anyone who walks too close to the door! I was thrilled to see her win. (swedishkat)
Ruffian to Rags: Tribute from a Fan
On July 7, 1975, Ruffian, one of the greatest fillies to grace the world of horse racing, became the only horse to be honored with a grave on the inside of the Belmont Racetrack. She was euthanized after breaking down the day before during the woefully misnamed "Great Match Race".

Foolish Pleasure finished the race in front of an ominously silent crowd of people who were intently focused on the other horse suffering in the back stretch. The colt technically won the race, but on that day, horse racing lost part of its soul.

Fans of Ruffian will never forget that when she broke down, she was in the lead. She was in the lead and she tried to keep running. She was still trying to run when she woke up from the surgery on her shattered leg. After thrashing about and causing further injuries, Ruffian was put out of her misery.

I didn't see the ill-fated match race back in 1975. However, I recently and reluctantly watched the footage on YouTube. The image of Ruffian valiantly struggling to finish will haunt me for the rest of my life. Ruffian's body broke down, but her huge heart never gave up. My heart ached.

After the match race was over, the harsh reality set in that world would never again see Ruffian's bold and brilliant form blaze across the finish line. She was a once in a lifetime filly. When she died, she took all of her huge heart with her. In a way, a big part of the heart of the sport went with her too.

On June 9th, 2007, a little bit of that long lost heart started beating again during the 139th running of the Belmont Stakes. The feisty filly, Rags to Riches, battled it out with a top colt, Curlin, the winner of the 2007 Preakness, and galloped her way into the history books as the first filly to win the Belmont Stakes in over a century, 102 years to be exact.

She was also the first filly to win running the distance of 1 and 1/2 miles.

It is true that the 2:28.74 winning time for Rags to Riches broke no records. In fact, on July 9, 1973, (34 years ago to the day of her win) Secretariat, her great grandsire, put the final jewel in his Triple Crown winning by 31 lengths with a record speed of 2:24 that still stands today. However, Rags to Riches was faster than Secretariat in one regard: She ran the final quarter of a mile in 23.83 seconds, the fastest time since 1934!

Another observation: Rags to Riches ran the race almost entirely on the far outside. Who knows what her time could have been had she taken a shorter distance around the track? But at this point, who's counting? It was the way she won that will forever "light the corners of my mind."

The 2007 Belmont Stakes was a race for the ages. The victory of Rags to Riches began with a heart-stopping stumble out of the gate where she almost went down on her knees, and unfolded into a bittersweet metaphor of another great champion filly, Ruffian, rising from her knees to finish her final race.

With the ¼ and ½ mile times being 24.740 and 50.140, respectively, the initial pace of the 2007 Belmont was, in the words of the caller, Tom Durkin, "tepid" and a "bit of a crawl".

However, as the horses came out of the final turn, Curlin bolted between the leaders and grabbed the lead on the inside. At the same time, Rags to Riches charged from 5th place, sweeping 4-wide on the outside. Within a few seconds, she was out in front!

Suddenly, the 139th Belmont was as close to a modern day match race as you could get. It was Rags to Riches on the outside and Curlin on the inside. They left the rest of the field in the dust and went head-to-head as they thundered down the final stretch. It got to the point where the crowd pretty much forgot there were 5 other horses on the track.

Only this time, the race ended with a thrilling win for the filly...

I hope we have come full circle, from Ruffian to Rags. I hope to see Rags to Riches' bold and brilliant form blaze across the finish line again. She too is a once in a lifetime filly. In a way, she is helping to bring back some heart to the sport.

Thank you, Ruffian and Rags, for giving us your hearts and the memories: memories that belong not only in the horse racing record books, but also, somewhere in The Field of Dreams.
---
Comments: BEAUTIFUL, Ladywalker - it certainly came full circle: Rags continued the race for Ruffian! Even as a Curlin fan, I was thrilled to see it happen and the Ruffian movie the same day - it just proved it: FULL CIRCLE!!! .....(swedishkat)