Ptanks56
From AlexBrownRacing
FOB's TANK & HIS WIKI PAGE
FOB's Tank lives at Withers & Winds Farm in Chaplin CT This is NOT an official Horse Rescue, we do have rescued horses that live with us. We and our friends and Famblee at FOB board are raising funds for the reasons discribed in his original post noted below:
---
My name is Paul Tankesley,
I adopted a horse named "Tank", Tank is a very sweet 10 year old Percheron that used to plow an older ladies garden. He was bought, or given to a man who intended to use him as a competitive pulling horse. After the events that unfolded he was rescued and then listed at the NEER web site.
Tank came to my farm the first week of June his foster mom had her hands full and needed a good home for him). He was named Tank by his Foster Mom, just a strange happen-stance and signal for me.
He was wary of his hind end and was very afraid of men touching him behind his withers.
His penis was severly swollen, with three open a large infected wounds on it.
His feet were torn up (outer hoof ripped away by old owner ripping off unclenched shoes).
He was to be put down but, Dr Golub wanted him rescued instead (that's how he got to his foster mom and listed on NEER site)
I have been able to gain his trust and he is very good with me i can bath his penis and medicate it, handle his feet and he is very trusting of me and my farrier now. I have fallen in love with this big gelding.
I have spoken to several vets and large animal care givers from here to Los Vegas( a rescue out there had a similar gelding with same problem)
Every out come of this type of injury and on going swollen penis is amputation.
I contacted Tufts and he is scheduled for surgery on 10/11/07 so he has time to heal before winter hits. By Dr Patricia Provost, I hear she is very good. EST cost approx. 2500-3500 $
I will have to stretch every resource I have to pay for this surgery and transportation.
I am wondering if you have any source of information that might be able to help me with this, any funding or transportation would help. I had researched this from every angle and all veterinarians feel that amputation is the only long term solution to his problem. As I said above this guy has gotten into my heart. He was an emotional wreck when he got here, his foster had made some progress with his wounds and ground manners but he was very wary of strangers especilally men, which is understandable, due to his treatment from his previuos owner. I am now able to do anything I want to him, he is calm and he trusts me. You can understand I am very proud of his progress. My other horse is a rescue as well, from Greener Pastures, he is a 27 year old Buckskin Dunn named Galileo. He is also awesome and my best friend. Tank is going to take over for him when Galileo needs to retire from the trails.
Currently his wounds are almost healed but the swelling will not go down. Amputation is his only chance to survive.
I could go on and on about my plans but I think you have a picture of my predicament. I am looking for any help I might be able to get. I need help and advise for funding, transportation assistance, care items after surgery, anything that will help with the financial load of this up-coming event for me and Tank.
I have started with the local and federal funding sites and am not getting too much responce so far. Petsmart and the like.....
Thank you very muich for your time, if anyone has suggestions or desire to help please respond to this e-mail address.
ptanks56@hotmail.com this email has a pay pal account attached ( this is a edit after someone mentioned i sould put it in, since there were so many interested people) next day
Paul Tankesley
Paul & Lisa Tankesley
Withers & Winds Farm
Chaplin,CT
Horse experience
Our first adopted horse Galileo a draft/qtr cross, he is approx 25 years old, and our latest adoption FOB's Tank a 10 year old Percheron, together at their favorite pastime.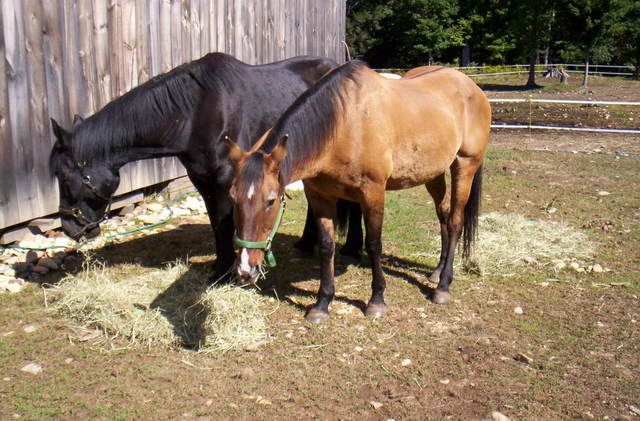 We have had Gali approx 5 years, he is a retired hunter/jumper from upstate NY. Tank has been with us since mid June 2007 as noted in the original post. There are two others that we will bring into this page shortly.
Paul & Lisa
FOB activities
Identify rescues you support, other activities you have undertaken on TWR sites, what you have learned through following Barbaro and FOBs etc.
FOB Network
Questions from other FOBs
This this space available for FOBs to ask you questions. Answers can then be worked into the above content if appropriate.