Peteygeorge
From AlexBrownRacing
Bio
I am Amber from NC.I recently in the past four months got on to the forum and found my Second passion in life[ loving on and riding horses first].I am excited about all the work you do to make a difference. I am married to my husband of 10 years and we have two beautiful children.
Horse experience
I came to love horses around age nine. I went to a local horse camp and that week was amazing.I have owned horses for the past20 years.All breeds My first was a unregistered Morgan I had her till she crossed the rainbow bridge.I moved on to ASB's,Hackney's,QH's,TB;s and OTTB's.My oldest child has the beating heart for horses also.I think he must be the youngest rescuer. I am so blessed to have a wonderful board of horse lovers to grow our purpose to save horses.Since November 2007,Our farm and rescue has gone under a lot of changes.We have rented an additional 30 acres about 3 miles from our house.We now have a QT area just for new horses coming in.

Rescued horse:
Henry 11/07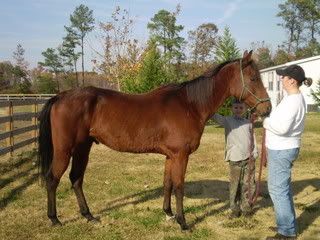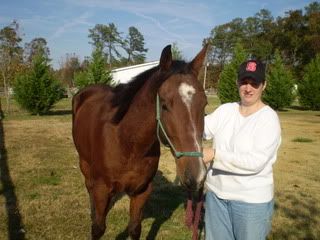 Henry now 1/08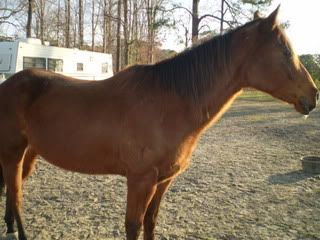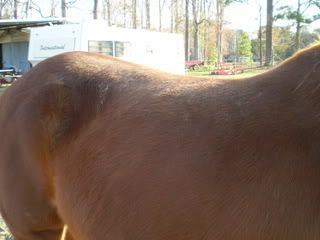 FOB activities
I have recently been on a crusade to collect old DVD's, Ink cart, cell phones and lap tops.So for I have a large box to send out to help a rescue.I am also approaching several horse farms in my area to collect feed labels to send other rescues to help. Our area is growing in the amount of horses for the county. I am trying to help certain organizations get the word out on how to take care of the horses you have.We recently did a Bowling night for several foster horses. I hope to keep growing the general public on the abuse and anti-slaughter issues that all horses in the US can endure
==FOB Network==I support Forgotten Treasures,Life Lines Rescue,Double G Rescue and USERL>
Questions from other FOBs
This this space available for FOBs to ask you questions. Answers can then be worked into the above content if appropriate.