Missouri Horse Heroes of Longmeadow Rescue Ranch
From AlexBrownRacing
Presenting the Missouri Horse Heroes of Longmeadow Rescue Ranch
Web Address: http://www.HSMO.org Fans of Barbaro site: http://www.HSMO.org/fansofbarbaro

Men will be just toward men when they are charitable toward animals. Henry Bergh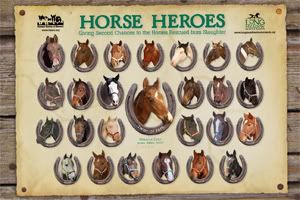 Once a horse is rescued, who will be there to give him a loving home and care?
The MO Horse Heroes are ready for adoption into loving, forever homes.
How to reach Longmeadow Rescue Ranch
Longmeadow Rescue Ranch, home to the MO Accident Horses, is located in Union, Missouri.The main phone number at Longmeadow Rescue Ranch is 636-583-8759.
To arrange a tour of Longmeadow Rescue Ranch, contact Becky Pemberton, Ranch Education and Animal Specialist at Ext. 702.
To adopt a Longmeadow Rescue Ranch animal, or for general information contact Earlene Cole, Ranch Director at Ext. 701 or Amanda Hirschberg, Ranch Manager at Ext. 703.
To make donations by check to Longmeadow Rescue Ranch, send check to Humane Society of Missouri,attn: Horse Rescue Donations, 1201 Macklind Avenue, St. Louis, MO 63110.
There is no paypal available at this time.
Longmeadow Rescue Ranch of Missouri Overview
Nestled among 165-acres of woodland near Union, Missouri, the Humane Society of Missouri's Longmeadow Rescue Ranch is haven for hundreds of abused and neglected horses, cows, goats, pigs, ducks and other farm animals. The ranch is one of the most comprehensive horse and farm animal care and rehabilitation centers in the country. In addition to animal care, ranch staff provide hands-on humane education experiences for both children and adults.
Adoption Days
Longmeadow Rescue Ranch hosts Adoption Days on the first and third Saturday of every month from 11 a.m. to 3 p.m. If you are interested in meeting our adoptable animals or our Barn Buddies who are available for sponsorhip, please visit the ranch during one of these days or call 636-583-8759 to schedule a visit on another day.

Sydney, Then and Now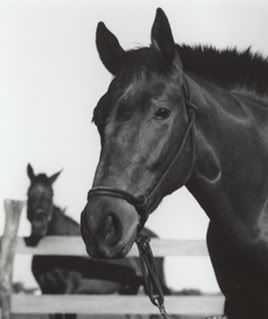 Sydney's remarkable story of recovery began when he arrived at Longmeadow Rescue Ranch just six months old and practically starving to death. He spent two weeks at a Veterinary Hospital to heal a wound on his leg before coming to the ranch. Within two weeks, Sydney gained fifty pounds and was on the road to recovery. He was able to be adopted after six months of intense rehabilitation. Sydney, who was named for the host city of the 2000 Olympics in Australia, now lives on a farm in Nashville, Illinois. Today, good looking and strong, Sydney is finally able to enjoy being a horse.
Many beautiful horses remain at Longmeadow Rescue Ranch for years before they are adopted.

Longmeadow Rescue Ranch History
Longmeadow Rescue Ranch, once known as Packwood Longmeadow Farm, was purchased in 1988, made possible by a generous bequest from George Packwood, Jr.
George Packwood's commitment to the Humane Society of Missouri began as an active supporter of the organization and continues today through his generous donation of land to be used specifically for the care of ranch animals.The same bold spirit that colored his philanthropic life marked Mr. Packwood's career. He began his career as an engineer and applied his expertise as a signal construction foreman for the Frisco Railroad. He often found himself washing his dirty hands until they were practically raw. So, working in a rented loft, he created a milder industrial soap along with a special soap dispenser. He liked the idea of marketing his product instead of sitting behind a desk as a consulting engineer. In 1926 he was ready to launch his own business, which in the 1950s was sold to the Calgon Corporation.
Mr. Packwood is quoted as saying, "In the world of business, if you perfect something good, you can get up on the housetop and flap your wings and crow about it." Well, Mr. Packwood, through your generous donation of land we created something good - Longmeadow Rescue Ranch. And we promise we will get up on the housetop and flap our wings and crow about it as we make this safe haven for horses and ranch animals even greater.

MO Horse Heroes
Who Owns These Horses?
Accident Horses Need Sponsors

On September 27, 2006, a tractor trailer filled with 42 horses was making its way down Interstate 44 to the slaughter house when it overturned. The horses were tossed, hurt and almost half died. Amazingly, this horrific accident may have ultimately saved the lives of the 24 horses and one hinny that survived the accident. The Humane Society of Missouri's Longmeadow Rescue Ranch team was among the first called to the scene of the accident. They worked tirelessly to save the horses from the wreckage.
The 26 living horses sustained injuries which included head trauma, internal injuries, eye swelling, ruptured tendon sheath, cuts and lacerations. One is suffering some leg paralysis. One small colt suffered nerve damage in his lower lip. Veterinarians sutured additional lacerations suffered by a pregnant mare who remains in guarded condition. All experienced severe trauma and, according to veterinarians, will require some time to recover. Ten months later, 20 of the surviving horses, including the new baby, are living at Longmeadow Rescue Ranch. And, as of now, five have been adopted into new forever homes.
Fans of Barbaro Fundraising Drives
Mother's Day Sponsor List
Father's Day Sponsor List
Mrs.J's Birthday Sponsor List

The Fans of Barbaro goal is to top $25,000 in donations to Longmeadow Rescue Ranch and the MO Horse Heroes by the September 27th anniversary of the I- 44 trailer accident. Together we can accomplish this goal and give their stories happying endings.
Fans of Barbaro Fundraising Drives The Fans of Barbaro are one hundred strong who consistently donate to the fundraisers set up specifically for them to benefit the horses of Longmeadow Rescue Ranch. There have been five fundraisers for the MO Horse Heroes; Christmas, honoring the staff of New Bolton Center, Valentine's Day, honoring Mrs. Jackson, Easter Eggstravaganza for the MO Horse Heroes and fundraiser honoring Michael Matz's Birthday, and Mother's Day Tribute to Mrs. Gretchen Jackson. With the completion of the Father's Day Tribute to Mr. Roy Jackson, which brought in over two thousand dollars in donations, we have a total of a little over 20,000 dollars for the MO horses since December. Our goal is 25,000 dollars for them by the first anniversary of their I-44 accident last September, 27th.
Help Us Help Them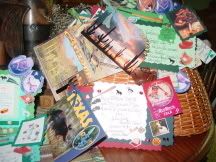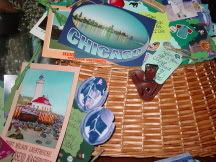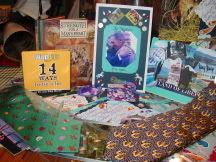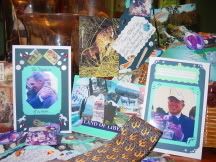 Father's Day Tribute for Mr. Roy Jackson netted the MO Horse Heroes 2,300 dollars.
Past Fundraisers
Christmas/New Bolton
Five thousand dollars was raised for the MO Horse Heroes in honor of New Bolton Center staff of caregivers to Barbaro.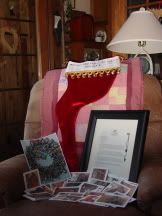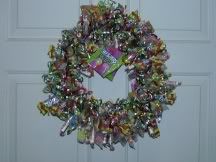 Lifesaver Wreaths were given to the staffs of New Bolton and Longmeadow Rescue Ranch by Fans of Barbaro who donated to the MO horses.
Valentine's Day Fundraiser: Fans of Barbaro's Hearts Belong to Barbaro and the MO Horse Heroes and Honoring Michael Matz on his Birthday.

Five thousand three hundred dollars was raised for this winter fundraiser.
Valentine's Mint Wreaths were given to Barbaro and the MO horses by Fans of Barbaro who donated to the fundraiser. Mrs. Jackson sent us a letter stating that Barbaro loved the green mints better than the red. After she taste-tested them herself, she agreed with him.
---
Easter Eggstravaganza Fundraiser
Almost five thousand dollars was raised once again.

An Egg Basket Centerpiece was given to Mrs. Jackson from Fans of Barbaro with one wooden egg representing each MO accident horse, a total of eighteen eggs in all. The centerpiece and Egg Cards were taken to the Jacksons by Kennett Florists's Rachel.
The Mother's Day Tribute to Gretchen Jackson fundraiser brought in three thousand dollars for the MO Horses and Longmeadow Rescue Ranch.
Mrs.Jackson sent a note July 1st saying that she was amazed at the amount of contributions in her name from Fans of Barbaro for the MO Horse Heroes' Mother's Day Tribute. Here are her sentiments.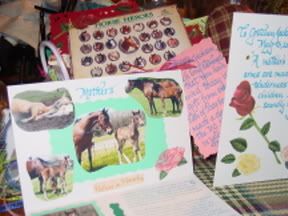 A lace rose basket was filled with Mother's Day Tributes to Mrs. Jackson in the form of rose message cards along with one long-stemmed rose from each FOB who donated to the MO Heroes fundraiser. They added up to 3 vases of roses with two dozen roses in each vase.
Video of Missouri trailer accident
To view video of the accident and read about the horses' present conditions go to: http://member.hsmo.org/site/PageServer?pagename=lrr_Donate_Horse_Heroes
For video scroll through all the horses' conditions and click on Watch Video.
Longmeadow Rescue Ranch at a Glance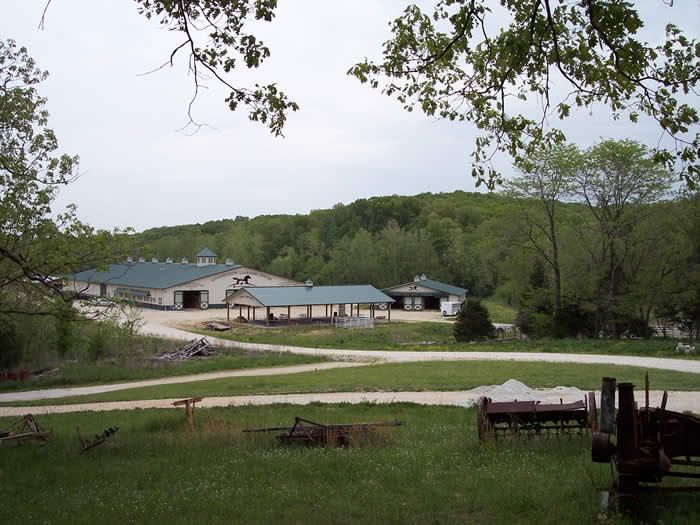 In 1988 The Humane Society of Missouri opened its Large-Animal Rehabilitation Center at the George H. Packwood Animal Sanctuary and Longmeadow Farm in Union, Missouri. Situated on 165 acres of land positioned in a valley surrounded by trees, the rehabilitation center is home to abused and neglected horses, cows, goats and other farm animals while they are rehabilitated and placed up for adoption.
Many programs exist to help the animals of Longmeadow Rance. They have a Barn Buddy program, the MO Horse Heroes sponsorship, educational programs and camps and opportunities for volunteering and adopting animals.
In 2002 Operation Pet Partners was formed, comprised of the region's four leading animal care organizations: Humane Society of Missouri, Animal Protective Association of MO, St. Louis City Animal Center, St. Louis County Animal Control.
In May of 2005, accompanied by renowned animal ambassador, Joan Embery, a long-time supporter of the Humane Society of Missouri, Longmeadow Rescue Ranch Barn Buddies are featured on NBC's Today Show and again in the fall of 2006.
Longmeadow Rescue Ranch Visitation
Horses, cows, goats, potbellied pigs and other animals at our Longmeadow Rescue Ranch in Union, MO are available for visits during our Adoption Days every first and third Saturday of every month from 11 a.m. to 3 p.m.
You may also contact our ranch at (636) 583-8759 or e-mail Longmeadow Rescue Ranch to schedule an appointment for another day.
Important links:
http://www.longmeadowrescueranch.org/adopt.php for adoption information. http://www.longmeadowrescueranch.org/inform.php for information on the ranch. http://www.longmeadowrescueranch.org/sponsor.php for sponsoring a horse. http://www.longmeadowrescueranch.org/volunteer.php for volunteer opportunities at the ranch. hrrp://www.longmeadowrescueranch.org/education_crittercamp.php for educational programs.
Fans of Barbaro Day at Longmeadow Rescue Ranch
Fans of Barbaro Day at Longmeadow Rescue Ranch July 1

Longmeadow Rescue Ranch is offering a special visitation for Fans of Barbaro on July 1st. They will provide box lunches and an opportunity to visit with the MO accident horses and Longmeadow Rescue Ranch as a whole. Please see the DB about this amazing day with Susan E.
Rescue Network
Longmeadow Rescue Ranch is part of The Humane Society of Missouri and works in conjunction with their rescues.
Pictured here are adoptable horses (not from accident) that are residing at Longmeadow Rescue Ranch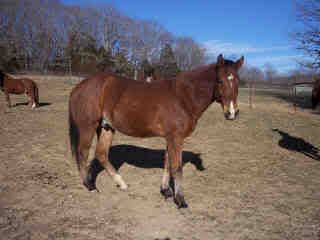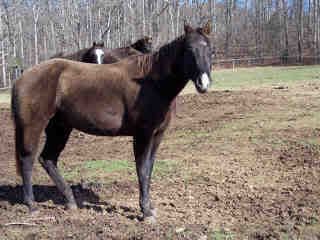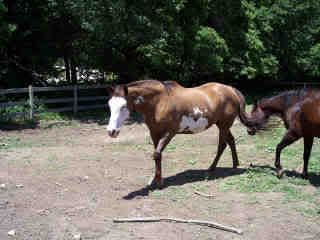 FOB Horses
It is our goal to support the MO Horse Heroes, their care costs are over 200,000 dollars so Fans of Barbaro have pledged to continue the support of these survivors. We have seen great improvement and happy stories where the horses are concerned, but many have suffered such horrible injuries, that after a year, they are still not adoptable. We have been there for these horses since the accident. Individuals pledge monthly sponsorships and Fans of Barbaro conduct formal fundraisers for the care of the these 18 specific horses.
What a Difference a Year Makes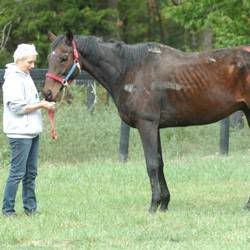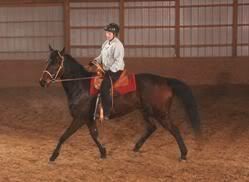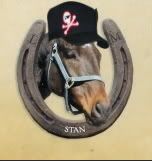 Then and Now, Stan has come such a long way from the accident last year.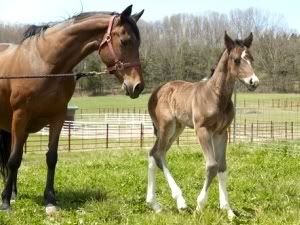 The Twist of Fate Miracle. The accident saved Mama from slaughter and Twist of Fate is now a happy and healthy foal at Longmeadow Rescue Ranch.

Our beloved Princess joined Darlin and Buckwheat at the Rainbow Bridge on July 3,2007. She had the heart of a hero to the end. These photos were taken July 1, 2007 by FOBs who visited Longmeadow Rescue Ranch that day.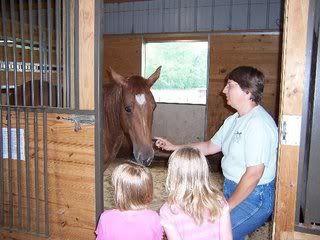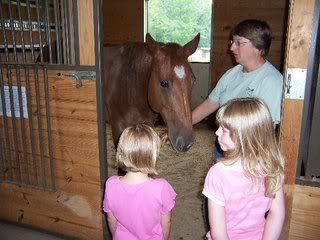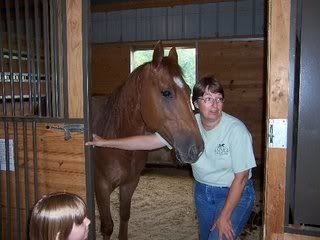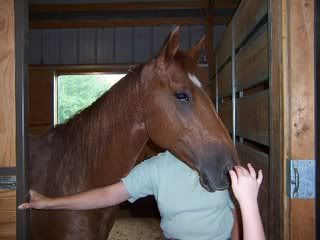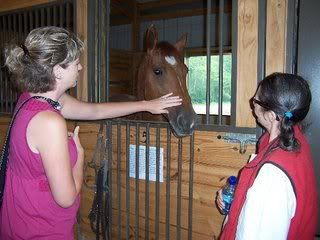 Our beloved Gidget lost her battle with blindness and a gastro-intestinal problem that prevented her from absorbing nutrients. She was euthanized October, 2007.
Deck the Stalls of Longmeadow Rescue Ranch. The MO Horse Heroes plus Knox County 15 Holiday Fund-raiser is Happening !!
Details on Wiki Fundraiser Page and Discussion Board Thread 17574.1.
Happy Holidays from Longmeadow's Twister !!

http://forums.prospero.com/alexbrown/messages?msg=17574.1
Fans of Barbaro, Express Yourselves - Comments, Questions and Feedback on Fundraisers
Here is the Paddock Page for Fans of Barbaro who have participated in the fundraisers or who monthly sponsor the accident horses and other horses from Longmeadow Rescue Ranch and would like to comment on the MO Horse Heroes, the fund raisers and sponsorships, and Longmeadow Rescue Ranch in general.

All I can say is that Rosemary has led the charge, and I am very pleased to be able to support these horses. Princess is usually my pick, because I think she looks like a horse who could use a lot of love and special kindness. Because of our love of Barbaro, we must continue to support the horses - it is not enough to give once, twice. These animals need ongoing financial support and I am pleased to be able to provide that. The folks at Longmeadow are "in it for the long run" and have been providing ongoing support and love and tremendous care to these animals who had the misfortune of being on a truck headed to their death (like so many others before them). That they could save any of these horses and get them to thrive is a miracle in itself. This miracle needs to have constant support.
Long live the MO hero horses.....they are and always be heroes of mine and I hold them dear to my heart.
Linda Madsen from Maine

I have loved Willie from the start and have supported him through all of the fund drives. His story is one of inspiration for all, just like Barbaro. Longmeadow and the MO HS have formed a wonderful relationship with all of the FOB's. Soon it will be FOB day at Longmeadow. These horses have come so far!
MJ from Wi.

It has been our great privilege to sponsor "Stan" at Longmeadow, aka Prince Connolly. He was so badly injured in the accident and now he looks like a whole new horse. Rosemary has done an outstanding job in spearheading these ongoing fundraisers for the horses that were rescued from a slaughter bound truck after it overturned on the highway. The gifts, treats and clever use of photos, by Rosemary, make each fundraiser a unique and artistic creation. She has put heart and soul into these efforts. We continue to hope and pray that each of these horses gets a loving home. We will continue to support them... thank you so much Rosemary... Teresa and Stan Chin

For those visiting either the HSMO site or here for the first time look at what love and good care have accomplished. It's true pictures are worth a thousand words. Just look at the before and after pictures of Sydney and Stan to name a few. I have sponsored Sweetie. Rosemary has done a tremendous job organizing the FOBs not only to support these horses but to make each creative project fun for everyone involved. If only these horses could read all of the lovely messages sent their way. Keep the projects and funds coming. It makes my heart glad to see these horses doing so well.
DeborahM23 (from Ohio)

Thanks to Rosemary for her creative way of focusing consistent attention on supporting these horses! They needed so much care and rehabilitation, and Longmeadow Ranch has really stepped up, as have the FOB. I have been pleased to sponsor individual horses as well as all horses at Longmeadow Ranch through the various tributes. The professional and personal details Rosemary adds on her own are second to none. And the communication and followup from Longmeadow is very appreciated. This is a very worthy cause, and I hope we will continue the ongoing support of these special horses...they epitomize some of the miracles we have seen.
Gloria from IL
I am honored to have been a part of the Missouri Horse Heroes fundraising from the beginning. I take my hat off to Rosemary who gives so much of her time, creativity, heart, and soul to each and every fundraiser and the results are nothing short of amazing. I have sponsored CC since the beginning and my commitment is to continue sponsoring him until he is permanently placed in his loving forever home. This is my special promise to him and to Rosemary.
Mary in MD