Lone Star Miss
From AlexBrownRacing
Before:
Recent (with her Bud Dar on the left)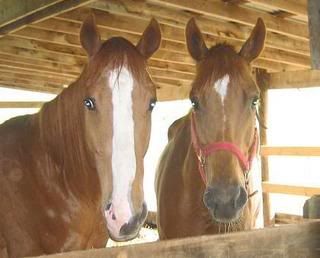 ---
Owner: Andrew Davidovich
Breeder: Blazing Meadows Farm LLC
State Bred: OH
Winnings: 41 Starts: 2 - 2 - 4, $24,212
12/16/06 Found in PA in poor condition at a brokers known for buying and selling horses to slaughter.
For Lone Star - Not forgotten
Earlier this year (09) the beautiful Lone Star Miss was put down. I understand that Tee was able to find her a loving home for the last year of her life and for that I am grateful. I do not know exactly when she left us but I was told it happened several months ago.
She evidently had several good months at her adoptive home before her decline. After many tests, she was put down. The necropsy showed advanced organ damage, probably due to steroids received during her racing career. It seemed to me that Lone Star never put on much weight in the pictures of her at Lifelines. and perhaps that is why. We simply don't know enough to blame her trainer or anyone, but evidently her adoptive home loved her and did their best for her.
RIP Lone Star Miss