Jane Heart
From AlexBrownRacing

Jane is my middle name and after over twenty years of retail experience with stores such as Gucci, Saks Fifth Avenue, and Neiman Marcus, I decided to follow my "heart" and create a business of my own. Horses and jewelry were naturals for me and Jane Heart was born!
It's very rewarding to have jewelry designs that so many clients love and enjoy - as one lady in California told me - "your jewelry excites me!" My cross collection again makes a distinct statement as each one is unique and represents a certain style from contemporary to classic.
I live in Scottsdale, Arizona with my husband Dennis. Along with the jewelry business, I am starting to write my first book titled Follow Your Heart, Follow Your Dreams. I just recently discovered FOB, and am glad to be a part of such a special group that is devoted to accomplishing so many good things in memory of Barbaro. I look forward to attending the event in Delaware in July and meeting you!
---
Barbaro™ Jewelry to Benefit the Fund for Laminitis Research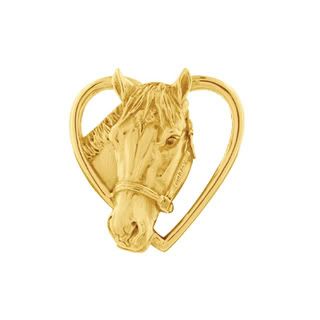 Jane Heart announces the introduction of her original, licensed jewelry designs of the charismatic race horse Barbaro. Through his valiant fight to recover from a broken leg and then laminitis, he touched our hearts with his courage and incredible spirit. In cooperation with Gretchen Jackson, Jane has adapted a favorite picture of Barbaro, looking out of his stall the morning of the Preakness, to an inspirational heart design. "Our powerful heart center is our guide in this world to help us on our path. It aligns us and helps us stay true to ourselves if we listen and follow its messages. As we know, Barbaro had an incredible amount of heart and was destined for greatness with his speed and love of racing. This design, whether we wear it or just look at it, will be an inspirational reminder of the great heart of Barbaro and give us hope and courage."

"Mrs. Jackson said Barbaro had a "way of looking, of knowing." Maybe he knew he had a special mission that would have an impact on the future of the wellness of all horses. From the establishment of many research funds, to legislation for the protection of horses, Barbaro has produced a groundswell that is his legacy. His name will endure forever, and record how he inspired many to make strides forward that will help his fellow horses and those who love and care for them. Barbaro has pointed the way for us to do the same – to follow his lead and be of service and enrich this world through worthy causes that need champions. He has shown us that each of us has a unique and special purpose, and that we can help others whether it be man or animals in very important ways."

"We also learned other things from Barbaro that we can apply to our lives every day. He inspired us in many ways, by first showing us how it feels to win when we follow our hearts and our passion by developing our talents and strengths. He showed us how to handle adversity with calmness, intelligence, a remarkable spirit, and a strong will to live. Barbaro also brought us all together and proved that we are all connected through the power of love."

"When Mrs. Jackson spoke about Barbaro, she hoped that "each of us might find a certain path that interests us" in regard to horses. Mine was to find a cause to support that would benefit horses and their owners through my jewelry designs. When I read about the Laminitis Fund, I immediately knew that this was my direction. A portion of the proceeds from the sale of each piece will go to the Fund for Laminitis Research at the University of Pennsylvania School of Veterinary Medicine. I am truly grateful that I was inspired by Barbaro to design this jewelry, and honored that Mr. and Mrs. Jackson granted me the license. I thank you, in advance, for your support of the Laminitis Fund through the purchase of these keepsake pieces. May these designs of Barbaro inspire you on your life's journey, and his heart, spirit, and guidance be with you always. With his heart…he inspires ours."

The first Jane Heart designs of Barbaro are a heart brooch or tie tack pin that retail for $210 and the heart pendant on a snake chain for $235 in sterling silver. This design is also available in gold and information is on the web site. Other styles and Limited Edition pieces will be announced as they are developed.
All Jane Heart designs are made and hand finished in Arizona. Each piece has the BARBARO™ trademark stamp on the back above the Jane Heart logo stamp and arrives in a gift box with a commemorative card with the message…"With his heart…he inspires ours." The designs are available to order on line at www.janeheart.com. Retail locations will be announced at a later date.
A portion of the proceeds from the sale of each piece will go to the Fund for Laminitis Research at the University of Pennsylvania School of Veterinary Medicine.
The trademark BARBARO is used under license.

All BARBARO™ designs and photographs are copyright protected by Jane Heart LLC with any and all rights to publication reserved. No part of this product or material may be reproduced, duplicated, or used in any way without verbal or written consent from Jane Heart LLC
Jane Heart LLC
PO Box 6399
Scottsdale, Arizona 85261
email: jane@janeheart.com
phone 480-998-0503
fax 480-596-9248
1-888-703-0503