Hulett
From AlexBrownRacing
Bio
Whatever you feel comfortable sharing re: your location, background and interests, contact information.

I live in Hondo, Texas (outside of San Antonio) with my husband of 28 years and we have two daughters. I am a clinical psychotherapist working primarily with foster children and their foster/bio families and my husband is a high school teacher. I use to be a teacher at a private school and befriended a family of one of my students who owned a racehorse and I use to visit the horse daily to pet and just hang out at the barn when I got an opportunity to purchase my own racehorse, Cloudy Creek. I raced him until he bowed a tendon, so he became my pet. As the years passed, got other horses for friends for Cloudy and did not realize that I actually was rescuing due to most were old and not wanted anymore. All stayed with us until they passed on, all were loved.
"
" "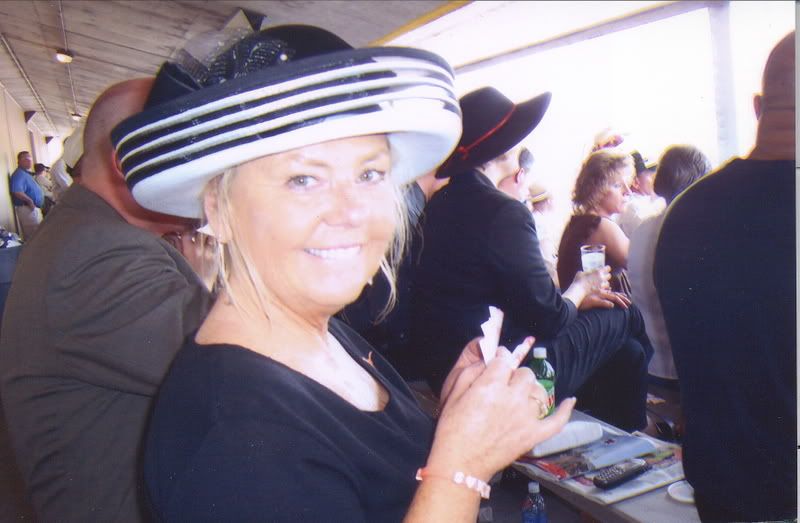 " "
" "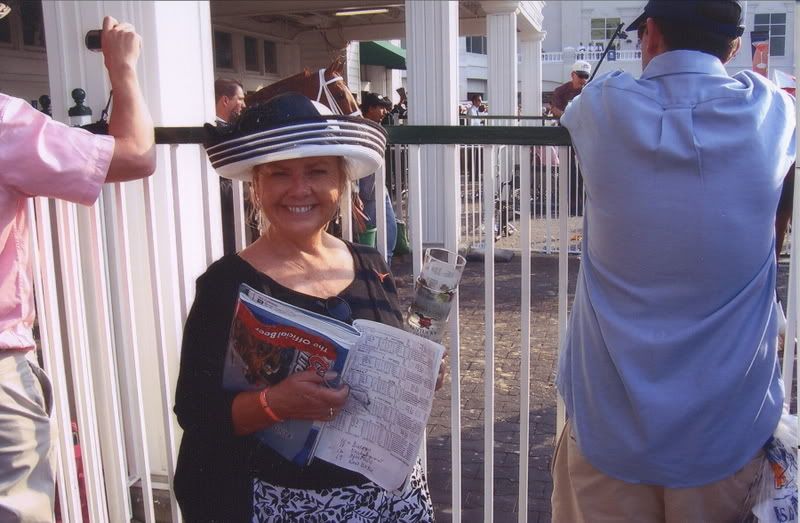 "
Horse experience
Share a little about your horse experiences. Grew up watching horse racing on tv due to lived in Dallas, Texas. Just had a few opportunities to ride horseback at the local stable. Then got my Cloudy Creek as I stated in my bio above. As you can see, I am mainly a watcher of horses. Above pictures were taken in Lexington at horse farms first of Skip Away (my favorite) and then Tiznow (isn't he gorgeous?). The other pictures were taken at the 2005 Kentucky Derby where Afleet Alex ran and Giacamo won! Second trip to the Derby. The first was in 1979 when Spectacular Bid won. I had just been married and my brother offered to send me anywhere in the world for a wedding gift and I chose Louisville, KY. My Dad bought the tickets for a graduation present because I also had just received my Masters. That has always been the way I have sought out opportunities to be around horses because mainly I just got to see them on television--that is until Cloudy Creek. He changed my life.
FOB activities
Identify rescues you support, other activities you have undertaken on TWR sites, what you have learned through following Barbaro and FOBs etc. Watched Barbaro win Florida Derby, Kentucky Derby, and then the Preakness was in shock and followed efforts via any newsreports I could find to keep updated about his progress. Found New Bolton and numerous visits daily and can't remember how I found timwoolleyracing, but began first thing in the morning and last thing at night to visit to know all was well. As the sight developed learned about horse rescues, laminitus,and a general caring for other memebers. I have participated in Alex's birthday celebration to try to give back to someone who has given us so much, Old Friend's, laminitus fundraiser for New Bolten, and meeting fellow Texas FOBs at Lone Star Park for Barbaro's Birthday celebration. I have been calling represeantives and senators in Texas and U.S Congress in effort to stop slaughter.
FOB Network
Other FOBs you have developed a network with through your activities. Pam Burks-Texas Anti Slaughter Tanya Wynn-Texas Anti Slaughter Patty Wilson-Laminitus/Barbaro Celebration Laura (jockforhire)-Texas Anti Slaughter Debra Barton - Tribute to Alex GramaBea- Laminitis Fundraiser/Cookbook
My site and other sites that are useful
Questions from other FOBs
This this space available for FOBs to ask you questions. Answers can then be worked into the above content if appropriate.

I hope you don't mind I straighten up your page for you. The pictures was throwing your page off. All you need to do when using pictures from PhotoBucket is just to copy the First link (says URL) and paste here. Hope this helps you! Mary L Ohio Mary L Ohio--no problem. Matter of fact thank you. I am not familiar with the computer, but getting better. Would like to make the pictures smaller, know how?