Aprilcain
From AlexBrownRacing
Bio
I live in caneyville KY and live on about 300 acres we have 3 daughters that are just as horse crazy as there mama we have rescued a horse for each of them and the horses are doing well we are from Montana (but never could get the room to have horses) we want to help anyway we can
Horse experience
I grew up training morgans on a family farm and mustangs on another my husbands mom raised quarter horses (now shes gone to mini's)
FOB activities
Identify rescues you support, other activities you have undertaken on TWR sites, what you have learned through following Barbaro and FOBs etc.
I'm very new to this and would like to help any way I can these are the first two I got from the auction the champagne was skin and bones and covered in what looked like cuts from a whip and had nearly no hair on her face baby the dark one was also very skinny this photo was taken about a month after they got here and they are doing even better now. the paint is a new horse a friend found at an auction and brought to me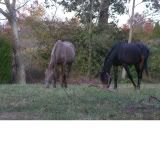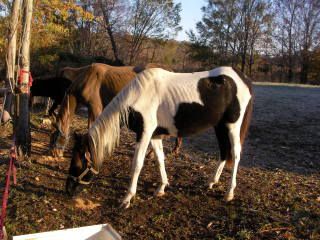 Questions from other FOBs
This this space available for FOBs to ask you questions. Answers can then be worked into the above content if appropriate.